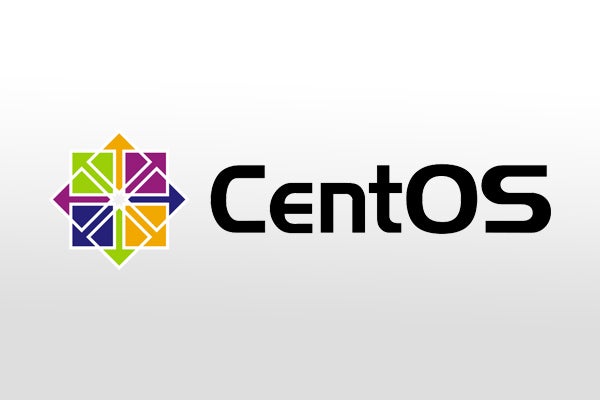 July 27, 2016
How OpenLogic Contributes to the CentOS Community
The CentOS community is vital to the development and success of CentOS. In this blog, we share how we contribute to the CentOS community. 
Community Is the Center of CentOS
CentOS stands for community enterprise operating system. Community is a critical part of CentOS. CentOS is community-supported. And OpenLogic is proud to contribute to the CentOS community.
How OpenLogic Contributes to the CentOS Community
A vital part of our development team's mission is to get involved with the CentOS community and contribute directly to its continued success and growth. We've seen big changes with CentOS over the years and its acceptance into enterprises as the operating system of choice fits right into our sweet spot of supporting open source excellence in organizations. Now that commercial companies are investing heavily in open source (who'd have said that ten years ago?), it's critical to establish and maintain the health of these kinds of projects for the benefit of all.
We've established ourselves as leaders in providing early open source fixes for business-critical systems, avoiding the wait for community patches. Now we're proud to take our rapid turnaround expertise back to the community.
Our First Contribution: Patch < about.patch
Our dedicated CentOS development team has made its first contribution: fixing a signal handling issue within the RRDTool (see it on GitHub).
This patch fixes an issue with the rrdcached data caching daemon whereby signals emitted by a debugger could cause the process to crash. Before the fix, if the daemon received a signal it couldn't process, it would exit with an error – not very useful when you're debugging. With the patch, the signal handling behavior was altered to throw a warning and continue, rather than exit.
Here's the relevant comment from GitHub: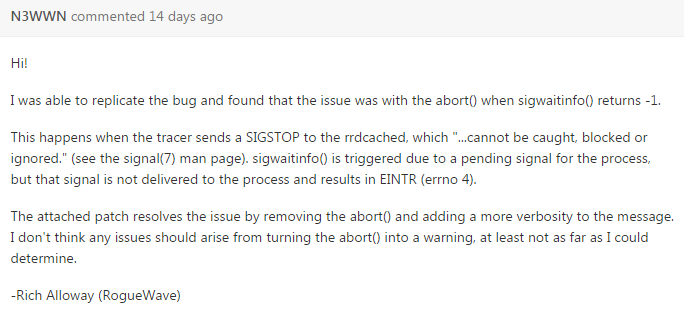 With the fix accepted by the RRDTool package maintainer, any CentOS or RedHat user that's using version 1.5.x or higher by compiling from source can reap the benefits of our contribution.
A bonus for our CentOS 6 and CentOS 7 support customers is that they can obtain RPMs of RRDTool 1.5.6 and 1.6.0 directly from our SpaceWalk repo. This allows them to install the binary package without worrying about installing outside the system package manager. While the update is available immediately through us, it will be included in the next CentOS and RedHat releases when they update their published RRDTool package to 1.5.x or higher.
Future CentOS Community Contributions
Our CentOS team has a dual mandate: support our enterprise customers with excellence, and contribute to the community at large. We took the time to find the right people with the experience and passion needed to do both. Whether it's reviewing code, providing documentation, or finding/fixing bugs, we'll continue to demonstrate that participation and collaboration are the best ways to keep CentOS growing.
Get Support From the CentOS Community
The community supports CentOS and makes it a great alternative to RHEL. But the CentOS community isn't alone.
We're proud to contribute to the CentOS community, in addition to offering support for teams using CentOS.
When you choose CentOS supported by OpenLogic, you'll get:
50% cost-savings.
Long-term support.
Backporting.
Guaranteed SLAs.
Architectural minimization.
Multi-platform support.
CentOS distributions.
Expert guidance.
Talk to an OpenLogic expert today and get help with CentOS.
Related Content: