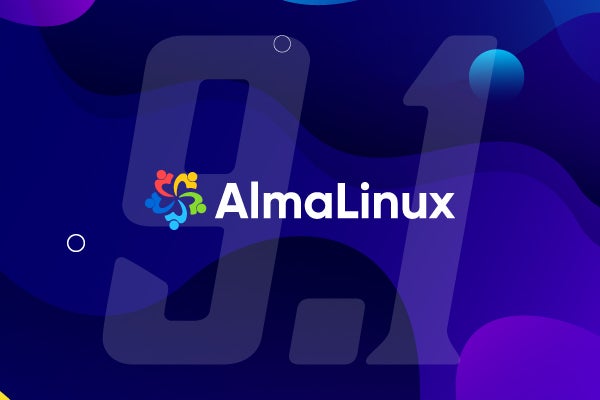 January 11, 2023
All About AlmaLinux 9.1
AlmaLinux 9.1 was released the same day as RHEL 9.1, and continues to be a popular alternative to CentOS and commercial Linux distributions. In this blog, our expert explains what's new in AlmaLinux 9.1, touching on new features and updated packages, as well as what teams can expect from future releases. 
Back to top
About the AlmaLinux 9.1 Release
AlmaLinux 9.1 has full parity with the upstream RHEL 9.1 release. It is available for Intel/AMD (x86_64), ARM64 (aarch64), IBM PowerPC (ppc64le), and IBM Z (s390x).
AlmaLinux 9.1 Release Date
AlmaLinux 9.1 was released on November 16, 2022, the same day as the RHEL 9.1 release.
Back to top
AlmaLinux 9.1 New Features and Updates 
There are a number of notable new and updated packages in AlmaLinux 9.1, such as:
Keylime, a new security-focused tool to enable administrators to continuously monitor remote machines.
SELinux was updated to version 3.4, which improves relabeling performance with parallel relabeling, and adds some new policy utilities.
clevis, which is a framework for automated decryption. It can use several different unlocking methods, including TPM 2.0, to automatically decrypt boot volumes, for example.
NetworkManager has been updated with support for migration connection profiles, to migrate the deprecated ifcfg format to the keyfile format that NetworkManager uses.
xmlstarlet, a new package, which is a set of command line utilities for manipulating xml files. They can be used similarly to common unix commands such as grep, sed, awk, and others.
Several packages have been updated, including PHP 8.1, Ruby 3.1, Node.js 18, and Apache HTTPS Server 2.4.53. frr, which is a fork of the Quagga routing daemon, has also been updated, along with chrony. The GCC toolset has been updated to 12, LLVM toolset to 14.0.6, Rust toolset to 1.62, and Go toolset to 1.18. Grafana was updated to 7.5.13 as well.
The kernel has been updated to 5.14.0-162. This has several updates; for details, you can read the documentation. 
The Decision Maker's Guide to Enterprise Linux (Updated)

Download your copy for instant access to timely and in-depth analysis on enterprise Linux distributions ⁠— ranging from stalwarts like CentOS and RHEL, to emerging distributions like AlmaLinux and Rocky Linux. 
Back to top
AlmaLinux 9.1 Migration and Upgrade Considerations
Migrating to AlmaLinux 9.1 can be done using the Leapp utility from the ELevate project. This tool was originally used to help with upgrades from Centos 7, but now supports upgrading AlmaLinux 8 to 9. It also supports migrating to Rocky Linux, Oracle Linux, EuroLinux, and CentOS Stream.
As usual, packages that came with the distribution are probably okay, but there may be issues with third party packages. Dependencies may be updated to an incompatible version, or possibly replaced with something equivalent, but with a different name. Testing should take place before upgrades are performed on important systems, especially in a production environment. Containerization or somewhat similar methods, such as Snap, Flatpak, or AppImage, could alleviate issues.
Related Reading: How to Plan a CentOS to AlmaLinux Migration 
Back to top
What to Expect From Future AlmaLinux Releases
With the exception of the first beta release and the first stable release of AlmaLinux (8.3), which came out several months after RHEL 8.3, the release lag has consistently been under 10 days, with AlmaLinux 9.1 released on the same date as RHEL 9.1. It is expected that future releases will continue to come out within 10 days of the upstream release.
In terms of support lifecycle, AlmaLinux 8.x will be supported until March 1, 2029 (eight years after its release), so it's fair to assume that AlmaLinux 9.x will reach end-of-life in November 2030, if the community continues to support each major version for eight years. 
In future releases, the ELevate project will be expanded with more in-place migration support for more major version changes. The AlmaLinux community is working to integrate ELevate with cPanel. They are also looking at parity in the architectures they support, such as expanding the container images they provide and the hardware they support. 
Back to top
Final Thoughts
The future looks bright for AlmaLinux. In March 2022, the AlmaLinux OS Foundation was founded as a 501c(3) organization to take over project development from CloudLinux, who created AlmaLinux and still maintains a commercial Linux distribution (CloudLinux OS). The AlmaLinux OS Foundation elected its first Board of Directors in September of 2022, so AlmaLinux 9.1 is the first release to come out under their governance. 
Teams that are looking to migrate off of CentOS should definitely consider AlmaLinux, because it's 1:1 binary compatible with RHEL and typically comes out within days of the upstream release, which is faster than some of the other CentOS alternatives.  
Looking for AlmaLinux Support?

OpenLogic by Perforce offers the expert AlmaLinux technical support and services enterprises need to deploy AlmaLinux in mission-critical applications. With 24/7/365 support from a team of experienced Enterprise Architects — all backed by ironclad SLAs — organizations can confidently deploy AlmaLinux without the risk.
Additional Resources
Back to top