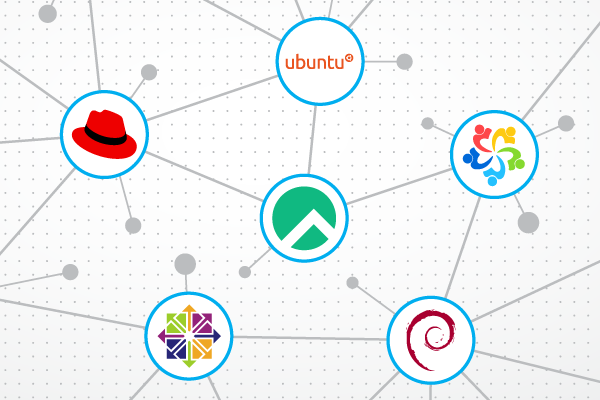 May 4, 2023
Top Enterprise Linux Distributions From the State of Open Source Report
The landscape for Linux distributions continues to be exciting as the end-of-life date for the last community supported version of CentOS is just a little over a year away. In light of this, and to get a more accurate picture of Linux distribution usage as the CentOS era draws to a close, we added six more Linux distributions in the answer choices for our questions about open source operating systems and infrastructure technologies in this year's State of Open Source Report. 
In this blog, we'll review the top community and commercial open source Linux distributions, as reflected in the data from the 2023 State of Open Source Report. We'll also look at the most popular CentOS alternatives, including Rocky Linux, AlmaLinux, and CentOS Stream, and which industries are favoring each distribution. 
Back to top
The Top Enterprise Linux Distributions of 2023
As in previous years, we dedicated a substantial section in the 2023 State of Open Source Report to infrastructure and operating systems, with a focus on Linux distributions since they are the predominant operating system for software development and operations. 
We expanded the list of open source Linux distributions to include 16 options, and asked respondents to select all distributions used in their organizations since we know organizations often use more than one. Distributions we added to this year's survey — including Alpine Linux, Oracle Linux, and Arch Linux — had a surprisingly strong showing.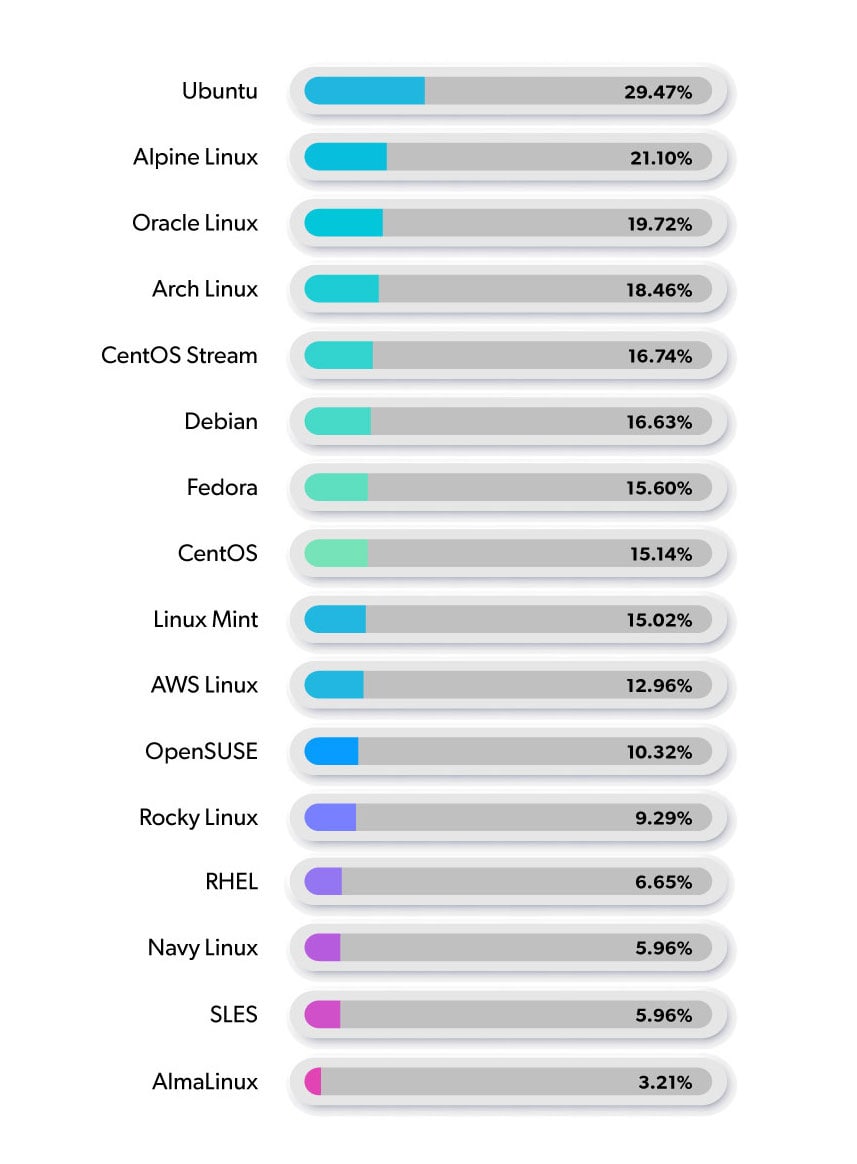 Key Takeaways   

1. Ubuntu Linux Still #1
Ubuntu is still the top Linux distribution, although usage dropped from 35.55% in 2022 to just under 30% in 2023. For context, in 2020, more than half of our survey respondents (56%) reported using Ubuntu. With so many options, including availability in the public cloud, it's safe to say we are seeing a slight downward trend in Ubuntu usage despite it still being the most selected distribution.
2. Debian, RHEL, and OpenSUSE Usage Drops 
Last year, Debian was the second most-used Linux distribution, but 2023 told a different story. Debian usage declined by about 5% among this year's survey respondents, with only 16.63% of respondents using it, down from 21.41% in 2022. OpenSUSE and RHEL also both slipped out of the top 10, their usage dropping by 6 and 10 percentage points respectively, compared to last year. Note: The State of Open Source Survey was primarily about community open source software with only a few exceptions where we included commercial open source products, such as RHEL.
3. CentOS Stream Surpasses CentOS
Given that only one community supported version remains, it's no surprise that CentOS use has continued to decrease over the past year, sinking to 15.14%. More survey respondents reported using CentOS Stream (16.74%), the latest version of which (CentOS Stream 9) was released in December 2021, and more organizations have been migrating to other Linux distributions. 
Get Your Free Copy of the 2023 State of Open Source Report

60+ pages of data and insights from a global survey of open source users. Find out which technologies and tools are trending by industry, region, and org size.

 
Back to top
The Most Popular CentOS Alternatives 
Many organizations have begun preparing for a future without CentOS, from securing long-term support for CentOS to setting a CentOS migration strategy. Looking at the Linux distribution data by industry, we see some noteworthy trends: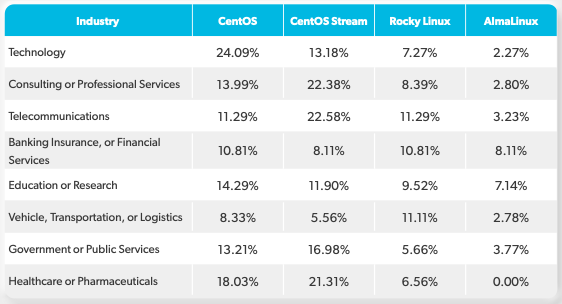 This table shows that technology companies are still predominantly using CentOS, likely because they have a large number of test and production deployments and have not had time to migrate. Meanwhile, government organizations and the telecommunications, healthcare, and consulting/professional services sectors appear to favor CentOS Stream. We see a fairly even distribution in the banking/financial services, and a preference for Rocky Linux among respondents working in the transportation industry. 
When we send out next year's survey, CentOS 7 end-of-life will be less than a year away, so we expect to see more migration to AlmaLinux, Rocky Linux, CentOS Stream, and other Linux distributions. In the last months of 2022, Rocky Linux 9.1 and AlmaLinux 9.1 swiftly followed the upstream RHEL 9.1 release, and both projects gained some high-profile enterprise adopters.
Upcoming Webinar: Exploring the Post-CentOS Landscape

On June 8, join leaders from Rocky Linux and AlmaLinux for a panel discussion on the future of Enterprise Linux. Moderated by Perforce's Chief OSS Evangelist Javier Perez.  
Back to top
Common Challenges With Using Linux Distributions
When asked about the top support challenges encountered using open source infrastructure technologies and Linux distributions, here is how survey participants responded (and again, they could select more than one):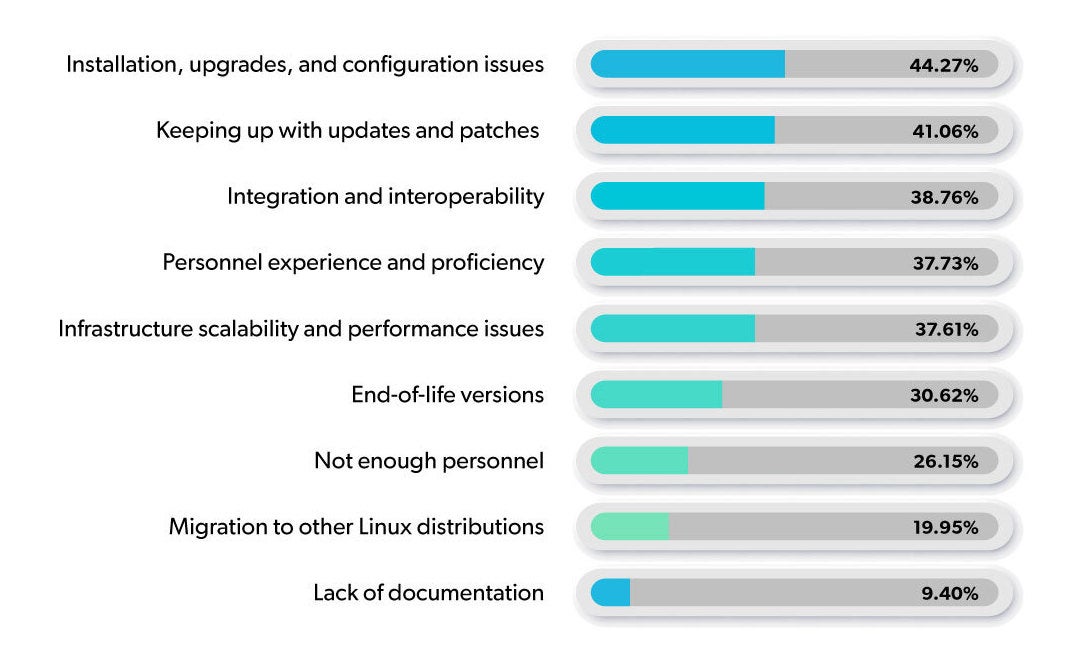 Due to the criticality of open source infrastructure, it's no surprise that the top challenge reported by survey respondents this year was the same as last year: installation, upgrades, and configuration issues. Keeping up with updates and patches received the second highest number of responses, followed by infrastructure scalability and performance, integration and interoperability, and personnel experience and proficiency. 
These pain points speak directly to the complexity of administration, support, and maintenance of open source infrastructure, including Linux distributions — as well as the necessity of having access to experts who have experience with these technologies in enterprise applications.   
OpenLogic supports more than 400 open source technologies. See the list >>
Back to top
Final Thoughts
Linux is the operating system of choice for organizations of all sizes. On-premise or in the cloud, regardless of the technological architecture, from VMs to containers and serverless computing, Linux is going to continue to improve with support for more hardware features and packages for AI and, of course, security.
Long-term support for Linux distributions is top of mind; and in fact, many distributions have shortened their development life cycles. This allows for more activity in terms of trying different or new versions of Linux distributions.
The most active and growing open source communities are going to be key to the future success of this large variety of Linux options. We look forward to seeing how the market changes in the upcoming year and the results from next year's State of Open Source survey.
Additional Resources
Back to top