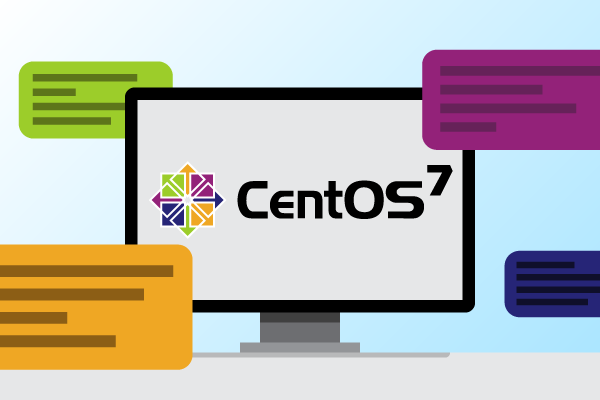 April 1, 2021
The Long-Term Outlook for CentOS 7 Support
Operating Systems
Open Source
With the December 2020 announcement that Red Hat was going to discontinue CentOS 8 at the end of 2021 (a shocking 8 years ahead of the stated end of life), many folks are wondering if there is any impact to CentOS 7 support.
In this blog, we discuss the impact of the CentOS 7 EOL announcement, look at the current options for organizations seeking support for CentOS 7, and discuss the long-term support outlook for those using this popular Enterprise Linux distribution.
The Current CentOS 7 Support Lifecycle
To answer the question at the beginning of the article, the short answer is, no, there's no immediate impact to CentOS 7 as a result of the December Red Hat announcement. Or, at least, nothing has been announced that would indicate that there will be any impact. Red Hat continues to publish the date of June 30, 2024 as the end of Maintenance Support for RHEL 7, the upstream for CentOS 7.
RHEL 7 was released on June 10, 2014, so the June 2024 EOL date for CentOS 7 is the full 10 years that we expected.
Start Planning Your Move From CentOS 7

Whether you need to stay on CentOS 7 beyond community end of life, you need help choosing a solid migration path for your business, or you just need an extra hand managing your current CentOS 7 deployments, our Enterprise Linux experts can help.
CentOS 7 Support Lifecycle Overview
| CentOS Version | Release Date | Support End of Life | Support Via OpenLogic |
| --- | --- | --- | --- |
| CentOS 7 | July 2014 | June 30, 2024 | OpenLogic Enterprise Linux LTS available until December, 2029 |
Is CentOS 7 Still Supported?
Yes, CentOS 7 is currently the only supported CentOS version: CentOS Linux 7 will continue to receive community security patches and bug fix updates until June 2024.
CentOS Linux 7 has gone through several phases in its lifecycle though, and we are currently in the "Maintenance Support 2" phase where only what Red Hat considers to be critical and import security patches and urgent priority bug fixes are released.
This product will remain in this phase until it reaches End-of-Life. The phase began in August 2020 and took CentOS 7 out of "Maintenance Phase 1" which, along with General Availability, is where most of the changes including minor releases occur.
Need CentOS EOL support? Talk to a CentOS expert.
CentOS 7 EOL Date
CentOS Linux 7 will reach end of life on June 30, 2024, the same date that RHEL 7 enters the next vendor support phase: RHEL 7 Extended Lifecycle Support. After this date, CentOS 7 will no longer receive any security updates or bug fixes from Red Hat.
For all intents and purposes, CentOS 7 will no longer receive support from the community. Most, if not all, support requests directed at the community for end of life CentOS releases will be answered with the equivalent of, "That version of CentOS is EOL.  Please upgrade to a newer distribution."
Will the CentOS 7 Support EOL Date Change?
We don't anticipate or expect any changes to the CentOS 7 EOL date but, honestly, we didn't expect to see CentOS Linux 8 support shortened by 8 years either. It is always possible that Red Hat will make another announcement and shorten the CentOS 7 lifecycle, but after the backlash of the CentOS 8 announcement, I would be highly surprised to hear of a reduced lifecycle for CentOS 7.
Support for CentOS 7 Options
With CentOS 7 being current, there are several support options, including vendor support for the upstream product (RHEL7) through Red Hat, upstream package maintainer support for the packages included in EL7, community (aka peer) support, and commercial support.
Related:CentOS Patching: What You Need to Know
Upstream Vendor Support for CentOS 7 
Red Hat supports CentOS 7 through bug reports filed against RHEL 7 in Bugzilla.
Bugs filed in Bugzilla don't always get the attention that many of us think that they should receive, but at least the problem is documented for others encountering the same problem. 
Should your issue be addressed by Red Hat, don't expect a quick turnaround — unless it is something they consider high priority. Often times solutions (links to upstream patches, directly submitted patches, etc.) that are provided take many months to be included in a RHEL release.  If the version of RHEL that you filed the bug against is no longer the current minor release, you may find the ticket getting closed without resolution.
That being said, it is good to be able to reference a Bugzilla issue when reporting the issue through the other support channels.
You can also submit issues at the CentOS Bug Tracker but, unless the issue is directly related to CentOS, itself, and not an issue in the equivalent RHEL release, you will be told to submit the issue to Red Hat or the upstream project.
Upstream Maintainer Support for CentOS 7 
Sometimes the fastest way to get an issue resolved with a package is to take the issue directly to the programmers who maintain the original package that Red Hat includes with RHEL.
If the problem is not present in the version(s) that the maintainers publish, probably due to a configuration or code change implemented by Red Hat, the upstream folks will likely reject your support request.
When the problem is present in the original code, most projects want to hear about the issue directly. The people responsible for the projects often have a reputation to uphold, even if it's only the reputation of the project and not for themselves.
The up-side to upstream support is that issues can usually be resolved faster than the upstream vendor support option, provided that the project is being actively developed. The downside is that Red Hat is not likely to incorporate a fix from the package upstream in a future update or release any time soon unless they rebase the package on a newer version.
Community Support for CentOS 7
Another support channel is Community support, aka Peer support.  This method can be hit or miss because it is the equivalent of casting your question out to a large group of people without knowing the background of the respondents or the quality of the response that you reel back into shore.
Community support can be obtained through mailing lists, chat/IRC servers or online groups such as the vast expanse of StackExchange sites.
If the problem is commonly encountered or you happen to catch the eye of someone who knows exactly what is wrong, or at least how to troubleshoot the issue properly, community support can be a wonderful option.
On the other hand, an uncommon (or never-seen-before) issue can result in little (or no) response, delayed responses, wrong responses or accidental misinformation.
The people responding to community support requests often have a genuine desire to help you, but they have no real investment into resolving your problem. 
Commercial Support for CentOS 7 
Commercial support is one of the primary differentiators between RHEL and CentOS Linux. 
Many RHEL subscriptions include commercial support with response SLAs, but the costs can be prohibitive.  Avoiding the substantial costs associated with RHEL is one of the primary reasons that CentOS Linux is so popular.
"CentOS 7 is a current release, so I'll just go to Red Hat and purchase support from them," you say?  Well, Red Hat will tell you that CentOS 7 is not a supported product and that you need to convert your systems over to RHEL 7 or 8 to receive support.  You are now tied into their subscription model moving forward.
This is where 3rd party commercial support for CentOS 7 from a company like OpenLogic can be an excellent option.
OpenLogic Support for CentOS 7
OpenLogic presently includes CentOS 7 in our "Enterprise Linux Support – Enhanced" offering.  With our ELS – Enhanced support, our team of Tier 3 and Tier 4 architects and engineers can troubleshoot your CentOS 7 issues, whether it is a problem with one package, the entire system, or interoperability with other OSS packages. 
How it Works
If we determine the problem to be a bug or security flaw, we can file the necessary bug reports with both upstream package maintainers and as well as coordinate invoking community support and vetting the responses. 
Once made aware of such a problem, we begin work on developing a solution. 
Many times, the OpenLogic team will file a new report and soon thereafter submit a patch to resolve the issue.  By giving back to OSS projects, we not only solve the problem for our customers today, but also help solve the problem for all of the users of that particular project.
Once a solution is available, we can immediately build an updated CentOS 7 package that includes the fix, sign it via GPG and publish it for our customers.
Why it Works
We've found that this multi-faceted approach provides the best value to our customers and the OSS community as a whole. Our customers get an updated package as soon as we verify the fix without waiting for the patch to trickle down from where it was fixed upstream to a RHEL package update and they can get a CentOS package update, should one ever be provided.
Get Long-Term Support From Our Experts
OpenLogic will continue to support CentOS 7 after EOL through our "Enterprise Linux Support – Enhanced LTS" offering, regardless of the actual EOL date.  With our "ELS – Enhanced LTS", OpenLogic will support your CentOS 7 systems for up to 5 additional years so you don't have to worry about your support requests being shrugged off by the upstream or community simply because the version of CentOS is no longer current.
Final Thoughts
There are many reasons to run CentOS Linux 7, and the fear of being left without supportable infrastructure should not be a reason to avoid CentOS 7.
Regardless of what happens to CentOS 7, OpenLogic's CentOS Linux 7 support will be available for 5+ years to extend the life of your systems until you have had the opportunity to upgrade them.
Get Support For CentOS From Our Enterprise Linux Experts
OpenLogic can help with migrations and upgrades, too. Whether you are migrating from CentOS Linux 7 to another Enterprise Linux distribution (such as Oracle Linux or Ubuntu), to one of the emerging RHEL-rebuild distros (like AlmaLinux or Rocky Linux) or from CentOS Linux 6 to CentOS Linux 7 or 8, our teams support a vast ecosystem of OSS projects. We know how they interoperate and how to maximize your resources while minimizing the risks associated with change.
Additional Resources