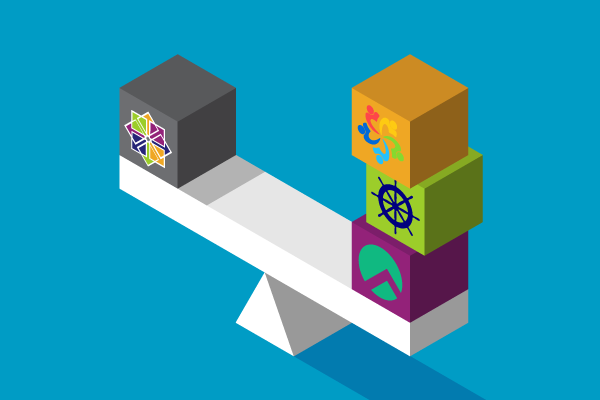 November 18, 2021
Comparing CentOS Alternatives
With CentOS 8 EOL set to hit at the end of the year, many organizations are studying their options. But given the relative infancy of available CentOS alternatives, some have concerns about their viability for mission critical applications.
In this blog, we give an overview of current CentOS alternatives, including CentOS Stream, and new Linux distributions like Rocky Linux, AlmaLinux, and Navy Linux.
Why Replace CentOS?
We've written at length about changes to CentOS 8 EOL, and Red Hat's decision to switch their focus toward CentOS Stream. These decisions left many organizations without a clear path forward, and little time to find one.
For organizations not equipped to handle rolling release distributions like CentOS Stream, or for those who don't find a rolling release distro particularly advantageous, "upgrading" CentOS 8 to CentOS Stream isn't a viable option.
That effectively leaves organizations with three choices:
Migrate off CentOS 8
Run EOL CentOS 8
Find alternative LTS for CentOS 8
"Bug for Bug" CentOS Alternatives
For those who want to remain on a CentOS-like operating system, there are a few successors to CentOS already available.
Rocky Linux
Within weeks of the CentOS 8 announcement, a small group led by CentOS founder Gregory Kurtzer announced a "bug-for-bug" compatible RHEL distribution called Rocky Linux.
While not even a year old at the time of this writing, Rocky Linux has gained a lot of attention within the CentOS community due to its connection to Gregory Kurtzer, and its relative freedom from corporate interest compared to AlmaLinux.
Rocky Linux, in addition to a downstream RHEL 8 release, has since released 8.4 and 8.5 versions under the "Green Obsidian" moniker. Release lag for these dot releases has been minor but somewhat inconsistent, with 34 days separating RHEL 8.4 from Rocky Linux 8.4 and 6 days separating RHEL 8.5 and Rocky Linux 8.5.
For those interested in migrating to Rocky Linux, migrate2rocky.sh script can help make that migration easier (if not using Katello, Uyuni, or SUSE Manager).
AlmaLinux
When people talk about new CentOS alternatives, Rocky Linux and AlmaLinux are typically the first two names mentioned. AlmaLinux, created by CloudLinux, is billed as a downstream, "binary compatible" RHEL distribution.
Release lag for AlmaLinux has been short, with only 8 days separating RHEL 8.4 and AlmaLinux 8.4, and only 3 days separating RHEL 8.5 and AlmaLinux 8.5.
For those who want a 1:1 compatible CentOS replacement, and want to operate within the CloudLinux ecosystem, AlmaLinux is a good choice.
Navy Linux
Compared to Rocky Linux and AlmaLinux, Navy Linux is relatively unknown. Like Rocky Linux, it's a "bug-for-bug" compatible RHEL distribution and led by a small community of developers. Unlike Rocky Linux, it's backed by a relatively small set of sponsor companies and has a small core development group.
At the time of publication, Navy Linux 8.4 is the only Navy Linux distribution available for download. Released on September 10, 2021, Navy Linux 8.4 trailed RHEL by 115 days.
Red Hat Enterprise Linux
Red Hat Enterprise Linux, or RHEL, is a commercial Linux distribution, that, starting with RHEL 9, will be based on CentOS Stream. Previously, RHEL served as the upstream version of CentOS Linux. Today, it exists downstream from CentOS Stream, which in turn is downstream from Fedora.
RHEL boasts some features that are not available in RHEL-based distributions, and can offer benefits to companies fully vested in the Red Hat ecosystem. As such, it's commonly used within the enterprise. That said, RHEL's notoriously expensive licensing costs at scale drove many organizations to adopt free, open source distributions like CentOS Linux.
Other CentOS Alternatives
There are any number of CentOS alternatives that exist outside the RHEL ecosystem. For the purposes of this article, however, we're only going to cover the last CentOS standing – CentOS Stream.
CentOS Stream
CentOS Stream is a continuously-delivered, intermediary Linux distribution that sits between Fedora and RHEL. It's used as a "development platform" where the CentOS community and Red Hat developers release features that are eventually bundled and released as major RHEL versions.
Because of the rolling release aspect of CentOS stream, teams need to have specific systems and practices in place in order to take advantage of continuously-delivered CentOS Stream builds.
Final Thoughts
For those who want to migrate from CentOS, there are a number of viable CentOS migration paths. Whether that's paid, through distributions like RHEL, or through spiritual successors like Rocky Linux, teams should have no trouble making a migration from CentOS 8. But with CentOS 8 reaching end of life on December 31, 2021, teams will need to make a decision fast to avoid unpatched EOL CentOS 8 deployments.
Get Support for Your Enterprise Linux

From extended long term support for CentOS 8, to SLA-backed technical support for Rocky Linux, OpenLogic can help you find success with your Enterprise Linux distribution. Learn more about how we can support your goals by speaking with an expert today.
Additional Resources