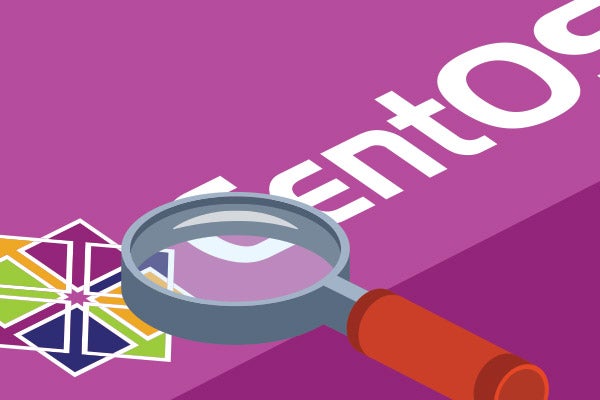 June 26, 2020
What is CentOS?
Operating Systems
Open Source
What Is CentOS (Community Enterprise Operating System)?
CentOS (Community Enterprise Operating System) is a Linux distribution functionally compatible with Red Hat Enterprise Linux (RHEL). Functional compatibility means that aside from RHEL subscription management, and RHEL branding, the two distributions are the same for a given version. Often, the two distributions are referred together as "Enterprise Linux", or EL, for short. 
What Is a Linux Distribution? 
A Linux distribution is a collection of software distributed with the Linux kernel. Often, these software distributions contain the GNU toolchain. Thus, some refer to the distributions as GNU/Linux distributions. In this sense, CentOS and RHEL are GNU/Linux distributions. That said, modern Linux distributions contain many applications beyond the kernel and the GNU toolchain.
If you have spent any time in the Linux user community, you know Linux distributions basing themselves on other distributions is not novel. For example, one of the most popular Linux distributions, Ubuntu, is based on Debian. The CentOS relationship to RHEL is very different from the Ubuntu relationship to Debian and is novel within the big-name distros. You can find out more about the differences between CentOS and RedHat in our recent CentOS vs. RedHat article.
The Making of a CentOS Release
It would take many blog posts to describe in detail how the CentOS team takes the RHEL source and turns it into CentOS. However, taking a quick look at how the tofu is pressed can be informative. When the CentOS team removes the RHEL branding, they remove images and logos owned by Red Hat. They do not erase every instance of the term "rhel" or "Red Hat" from the distribution. For example, in the screenshot below you can see the full install of rhel-system-roles on CentOS 7. Depending on what packages you already have installed, your output may look different.
If you look at the source for the rhel-system-roles package for the most recent version, you will see that it includes, the storage role, added as a new feature in RHEL 8.1.
If you would like to learn more about the CentOS source, or get involved in the project, please note that while some of the project is mirrored to Github, the canonical source for CentOS source can be found here. 
While moving from 8.0 to 8.1 is a big deal, Linux distributions are constantly receiving security fixes as vulnerabilities are discovered. The goal of the CentOS project is to have a security patch out within 72 hours of when the patch comes out in Red Hat. The CentOS FAQ notes that "normally" the patches are out within 24 hours.
Latest CentOS Release
Of course, we do not know when you are going to read this, but in general, version numbers are important here because of the delay in creating CentOS from RHEL. You can find the latest version of CentOS in the CentOS release notes.
As of June 15, CentOS 8.2 is out. While individual patches often get included in the CentOS repos within 24 hours, on average, it takes about 42 days for a CentOS point release to follow a RHEL point release. Red Hat released RHEL 8.2 on April 28, 2020. That means, we on average, CentOS 8.2 should have been out June 9. June 15 is an amazing achievement considering all the changes in the world due to the COVID-19 pandemic.
Back in March, 2020 one of OpenLogic's CentOS Developers went through some of big differences between CentOS 7 and CentOS 8. Read more on that here. 
Differences Between CentOS 8.0 and CentOS 8.1
One of the major differences between CentOS 8.0 and CentOS 8.1 is that there were important changes to external kernel parameters. Some of these are new kernel parameters, so you will need an upgraded kernel to use them. Other parameters are simply changing to settings and looking at the changes that are now considered best practice could be useful if you are unable to upgrade to CentOS 8.1 at this time. 
Of course, what CentOS decides is a best practice may not be the best for your environment. If you need help to determine the best kernel parameters for your environment, connect with one of our open source experts.
The other new features in CentOS 8.1 are broken into 17 categories. Some highlights include security, development tools, and virtualization. If you go through the list on the Red Hat website, you will notice something called "Red Hat Enterprise Linux System Roles". That is the rhel-system-roles package I installed as a demo above.
On top of new features, there are also new and updated drives, technology previews, deprecated functionality, and, of course, bug fixes.
Learn More About CentOS
Are you looking to get more information on this technology? Learn more in this CentOS guide or feel free to reach out to one of OpenLogic's CentOS experts.