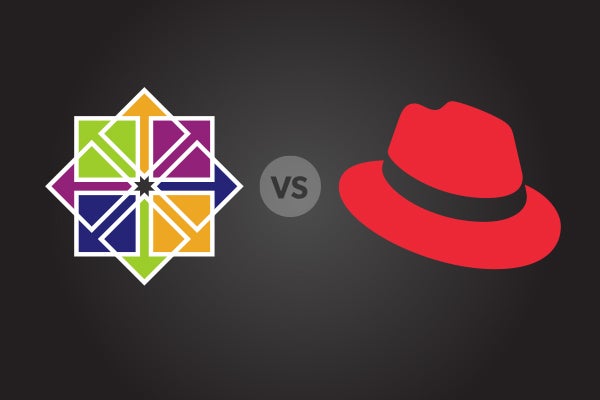 June 10, 2020
CentOS vs. Red Hat Enterprise Linux (RHEL): Do the Differences Justify the Cost?
Operating Systems
Open Source
What's the difference between CentOS vs. Red Hat Enterprise Linux? In this blog, we break down the differences between these two enterprise Linux distributions, including cost, lifecycle, packages, support, and more.
Editor's Note:  A lot has changed since this blog was written back in 2020, including the viability of CentOS Linux as a long-term choice for teams who want an open source Enterprise Linux distribution. Be sure to check out our 2023 Decision Maker's Guide to Enterprise Linux for a more up to date analysis on the Enterprise Linux landscape.
Back to top
CentOS vs. Red Hat Enterprise Linux (RHEL)
The main difference between CentOS vs. Red Hat Enterprise Linux (RHEL) is that CentOS is a community-developed, free alternative to Red Hat, which is a commercial solution requiring a paid subscription. CentOS and Red Hat are virtually identical in terms of functionality because they share the exact same source code.
Back to top
CentOS vs. RHEL Comparison Matrix
If you're considering moving from RHEL to another Linux distribution, CentOS is the best choice for mission-critical enterprises.
Use this comparison chart to see how CentOS and RHEL stack up on over 15 different factors, including licensing, security, package management, and available commercial support.
CentOS vs. RHEL
|   | CentOS | Red Hat Enterprise Linux (RHEL) |
| --- | --- | --- |
| License | FOSS – GPL and others | Commercial – RedHat EULA |
| Branding | CentOS | Red Hat |
| Security | SELinux, NSS, Linux PAM, firewalld | SELinux, NSS, Linux PAM, firewalld |
| Patches/fixes | SLA through OpenLogic | SLA through Red Hat |
| Commercial support | 24x7 support through OpenLogic | 24x7 support through Red Hat |
| Package management | Yum | Yum |
| Installer | ISO / LiveCD | ISO |
| Enterprise package management | Spacewalk / Katello | Red Hat Satellite 5 / Satellite 6 |
| Clustering | Linux-HA | Red Hat Cluster Suite (RHCS) |
| Bootloader | GRUB 2 | GRUB 2 |
| Graphical user interface (GUI) | GNOME 3 / KDE SC 4.10 | GNOME 3 / KDE SC 4.10 |
| Service management | systemd | systemd |
| Storage management | LVM / SSM | LVM / SSM |
| Default file system | XFS | XFS |
| Current kernel (11/2018) | 3.10.0-957.1.3.el7.x86_64.rpm | 3.10.0-957.1.3.el7.x86_64.rpm |
| Virtualization | oVirt / KVM | Red Hat Virtualization Manager / KVM |
| Containerization | Docker, Kubernetes | Red Hat OpenShif |
| Virtual device interface (VDI) | SPICE | SPICE |
| Cloud images: Azure | Azure by OpenLogic | Azure by Red Hat |
| Cloud images: AWS | AWS standard and security hardened by OpenLogic | AWS by Red Hat |
| Cloud images: Google | Google Cloud by CentOS.org | Google Cloud by Red Hat |
Migrating Off CentOS 7? 

You can choose to stay on CentOS 7 with OpenLogic long term support until 2029. Get technical support and LTS to stay secure. Migrate on your terms. Migrate on your timeline. 
CentOS vs. RHEL Cost
CentOS is free, no matter how many systems you install or how many cores those systems have.
Red Hat Enterprise Linux (RHEL), on the other hand, can vary between $99/year per installation (RHEL Developer Suite – Self-support) and $18,000/year per installation (RHEL for IBM System Z – Premium Support). There are developer subscriptions that are free but are for development only (self-support).
CentOS vs. RHEL Packages
Since CentOS is built from the same source code as RHEL:
The upstream packages are the same.
The libraries are the same.
The kernels are the same.
Both systems are binary compatible with each other.
To comply with open source licensing, Red Hat publishes the source code, including their in-house modifications to the CentOS Git servers. So when I say it's the same source code, it isn't just that the package versions are the same. CentOS and RHEL have exactly the same source code.
CentOS vs. RHEL Lifecycle
The lifecycle of CentOS matches that of RHEL, also.
For example, with CentOS 8 and RHEL 8, this means:
Updates will continue to be published for 10 years.
5 years of full support (bug fixes, security fixes, and feature enhancements).
5 years of maintenance support (urgent bug fixes as well as critical and important security fixes).
So, both RHEL 8 and CentOS 8 will receive the same updates until May 2029!
With many of the core folks who are responsible for CentOS are Red Hat employees, the developers are even the same. This isn't to say that there aren't any non-Red Hat employees working on CentOS, though. The CentOS community is vast! 
CentOS remains locked to the upstream RHEL source as far as bug fixes, too. If you open a CentOS ticket reporting an issue, unless it is particular to CentOS (which very few issues are), you're likely to receive a response along the lines of, "Please open a RHEL ticket at bugzilla.redhat.com. If/when they resolve the issue, we will inherit the fix from them."
CentOS vs. RHEL Branding
Branding is the major difference between RHEL and CentOS. Much of the work done for a CentOS release is removing the Red Hat licensing, branding, and URLs from the source code and replacing them with the CentOS equivalents.
CentOS vs. RHEL Licensing
Both RHEL and CentOS licensing is primarily GNU GPL with some other FOSS licenses. But RHEL adds paid, commercial licensing for the end-user.
One of the benefits of some of RHEL's commercial licensing options is support. All RHEL installations can be "self-supported", which means the system administrator has access to software updates and web-based content (articles, knowledgebase, etc), but no direct support from Red Hat.
Other support subscription options include standard (8x5) and premium (24x7) support, which includes direct phone and online support avenues. Red Hat also offers extended support which provides support for RHEL versions which have exceeded their normal support lifecycle.
Add-ons are a big thing with RHEL. Many of the RHEL add-ons are the same open source solutions that you can deploy on CentOS but are bundled with support and may include some RHEL-customized or proprietary configurations and utilities.  Things like centralized system management, high availability, and clustered file systems are offered in this manner.
CentOS vs. RHEL Support
CentOS has no paid support options available directly via the CentOS maintainers, and the price happily reflects that.
CentOS, like many open source projects, is community supported, bringing the knowledge and experience of 1,000s of die-hard CentOS (and RHEL) users together for the greater good. Some of the downsides of community support is that you don't have anyone to contact and there are no guaranteed response time or SLAs.
But CentOS support is available from companies likes OpenLogic. Not only are these commercial support options usually at a much lower rate than Red Hat charges, but they can also be bundled with support for other OSS packages running on your systems. This gives you a single point of contact for all of your OSS software support requirements.
Without that direct revenue stream from the subscription model, CentOS does not endeavor to obtain the same level of hardware and security compliance certification as RHEL. As we've discussed, CentOS and RHEL are almost identical. So, CentOS should also meet all of the same requirements if configured the same way. But, without the expense of the actual testing, CentOS doesn't share the actual certifications.  
There's also the matter of third party software vendor support. Many commercial vendors will specify that they support their software running on RHEL, but many don't mention CentOS. This just means it is not a supported configuration according to that particular vendor.
If this is the case with any of your commercial software, check with your vendor and see if they'll support their software equally on both CentOS and RHEL. 
CentOS vs. RHEL Systems
CentOS doesn't come in "flavors" as RHEL does.
Red Hat offers variations of desktop, workstation, developer, and server installations, as well as virtual host/guest options. The included software, add-ons, and typical support level are different for each one.  
CentOS offers LiveCD ISOs which is something that RHEL does not do, even though their mutual ancestor, Fedora, does. LiveCDs are bootable CDs/DVDs and are great for rescuing a misconfigured/damaged system or for testing things out without the need to install the OS onto a hard disk. 
To access the RHEL software repositories, you have to have a current, active RHEL subscription. Thus, your subscription lapses, you can no longer obtain package updates or install new software. The CentOS software repositories are public, do not require a subscription or login credentials, and are mirrored at many locations around the world.  
Speaking of repositories, there is a repo difference that some consider important. RHEL publishes metadata about packages that describe the security issue or bug report addressed by the updates. This can be useful if you wish to only apply security-related updates or to limit the updates installed to only those that address a particular open source vulnerability. 
This information is not published by CentOS. It is available through third parties. Of course, you can perform these steps manually, also. But if you keep all of the packages installed on your systems up to date, you're going to have all of the available security patches and bug fixes installed on your system anyway.
CentOS vs. RHEL Release Cadence
With RHEL, it is possible to test out release candidates a few months before the full GA (General Availability) release. While running your production systems on a beta release is not a good practice, early testing of your applications on the release candidate in a lab environment can alert you to possible issues sooner.
CentOS does not make beta releases available but does offer a CR (continuous release) repository that is populated with the packages that will make up the next point release. The CR repo is available for a couple of weeks before the GA release.
The CentOS 7 releases were publicly available about 2–4 weeks after the equivalent RHEL release. Ongoing package updates were released very shortly after the RHEL updates. Security updates usually only seeing about a 1-day delay.
With EL 8, the entire CentOS build system had to be reconstructed, adding quite a bit more initial delay. CentOS 8.0, for instance, released about 4 months after RHEL 8.0. CentOS 8.1, though, was released about 2 months after RHEL 8.1. This has increased the delay for package updates a bit.
CentOS vs. RHEL: How to Get Enterprise Linux at a FAIR Price

Many enterprises leverage Red Hat Enterprise Linux (RHEL). But there's a better way to use Linux in the enterprise — without the costs and complications of RHEL. Get our recent white paper to find out how you can get enterprise Linux at a fair price.
Back to top
Choosing CentOS vs. RHEL
Each company has different requirements around their operating system and the type and level of support they need — and so does every customer. 
Something else to take into account is your in-house talent pool. Do you have a room full of enterprise Linux / open source gurus, each with 20+ years of experience?  The size of the room may vary based on the size of your business, but the duration, and therefore the cost, of your outages is likely going to be directly proportional to the average years of experience of those in that room. I'm not just talking about monetary impact, either. 
Outages can have hidden costs, too: your reputation could be damaged, you could lose future business, a loss of in-house confidence can make progress grind to a halt.
You need to weigh all of the things that we've discussed to determine how much you need to invest in your OS infrastructure.  
If you can self-support, CentOS may makes more sense than paying Red Hat to let you do that same self-support.  If you're mostly self-sufficient but need some support "insurance", or you want to outsource the bulk of your CentOS support, a support contract with OpenLogic may be the best option.   
If you're locked into using RHEL by a 3rd party software vendor or have other business need that make RHEL the only viable option, Red Hat will be happy to take your money. OpenLogic support contracts typically save our customers over 50% when compared to RHEL support subscriptions. 
Migrating from RHEL to CentOS can deliver many cost-savings. Watch the video below to learn more:
Back to top
Consider CentOS For the Enterprise
Choosing CentOS, or other free enterprise open source Linux distributions, can be a smart choice for some businesses. CentOS offers all of the same features as RHEL, but for free. And you can get enterprise-grade support at a much lower cost than you'd be paying for a RHEL package.
With OpenLogic's CentOS enterprise Linux support, you'll get:
50% cost-savings.
Long-term support, including for CentOS 6 EOL.
Backporting.
Guaranteed SLAs.
Architectural minimization.
Multi-platform support.
CentOS distributions.
Expert guidance.
Need CentOS Guidance? 

Talk to a CentOS expert today to learn how we can help you migrate to the Linux distribution that works for your organization. 
Related Content:
Back to top