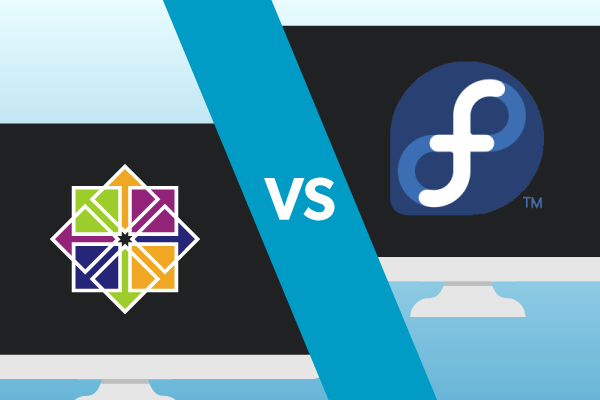 January 13, 2021
CentOS vs. Fedora: Features and Use Cases
Operating Systems
Open Source
Making sense of the open source enterprise Linux landscape can be a tall task. With recent changes from Red Hat regarding CentOS, it's helpful to understand the ideal situations in which different enterprise Linux distributions should be used.
In this blog, we look at two of those distributions: CentOS vs. Fedora. CentOS is a popular open source enterprise Linux distribution, and Fedora is the bleeding edge upstream enterprise Linux distribution. But before we compare CentOS vs. Fedora, let's start with a quick refresher on Fedora and its role in the landscape.
What Is Fedora?
Fedora is an upstream Linux distribution for Red Hat Enterprise Linux.
This means it is sort of like a testing ground for software that may eventually make it into RHEL. It contains new software, bug fixes, new versions, and other variables that may make some software unstable, or not appropriate for production use. It is a good distribution to use as a development platform, to test new software or new features of existing software.
It's important to note that since it is a testing ground, some software may not make it to RHEL, or the latest version may not be available in RHEL. Fedora has newer libraries, newer packages, and newer kernels. This lets you test against newer hardware that CentOS may not have support for yet, enabling you to plan for the future better. This article will focus more on Fedora Workstation than any of the other types.
The Fedora Project
The Fedora Project is a community of developers and contributors that all come together to build a good system for everyone's benefit. They believe that software patents are harmful and hinder innovation, so they don't include proprietary software. That does not preclude one from installing their own software, though.
Fedora Features
Fedora provides a lot of different software, in many different areas. There are installations called spins that group different pieces of software together for a different installation setup. This means instead of one boot image that contains every piece of software that could be installed, there are multiple images that you can choose that have the desktop environment you want.
There is a Gnome spin, a KDE spin, an XFCE spin, and several others, that install those desktop environments. There are also other images based on other concepts, like server based, IoT, CoreOS, and others.
Fedora is also a short lifetime distribution. New releases are generally every six months, with a specific release being updated up to two releases behind. For example, Fedora 33 recently came out, so Fedora 31 is no longer being updated.
This means you have to update your systems to the latest major version more often. This has several implications. You can get buggy or defective software more as they are added for testing. You can also get bug fixes and security updates more often.
Weighing Your CentOS 7 LTS Support and Migration Options?
RHEL vs. Fedora
Fedora is upstream from RHEL. Software is packaged and made available on Fedora, and tested by users. Since Fedora is a community project, it depends on users to file bug reports and even submit patches to fix problems, perhaps in the software itself, perhaps only in the packaging or installation. After a test period, the package may be included in a version of RHEL. This generally means the next major version of RHEL, not the current major version.
CentOS vs. Fedora
Since CentOS is a downstream recompilation of RHEL, the relation to Fedora is the same as with RHEL. This changed with the introduction of CentOS Stream. CentOS major version releases can lag behind RHEL by a couple of months, but security patches and bugfixes are generally released within a day or so of them being released for RHEL. CentOS Stream is ahead of RHEL, but behind Fedora. So new packages get introduced into Fedora, make their way to CentOS Stream, then to RHEL.
CentOS Stream vs. Fedora
Red Hat released CentOS Stream, which is a rolling distribution. It gets updates continuously, rather than in batches like the point releases of RHEL. Fedora is ahead of CentOS Stream though, so it will have newer packages with perhaps more bugs than CentOS Stream.
When to Use CentOS
CentOS is good when you want the stability of RHEL, but the subscription model of RHEL is not viable. It is a little behind RHEL, so you can see what bugs, patches, and other issues that packages may have and can plan for.
When to Use Fedora
Fedora is good to use as a development platform, or even a desktop environment. You do have to be aware of software version differences between Fedora and your server OS, though. Since it tends to be more bleeding edge, you can test new features easier. It may be some time before those versions get into the stable distributions, however.
Final Thoughts
Fedora is a good distribution for those who like the Red Hat ecosystem, but prefer more bleeding edge software for your system. It is more suitable for desktop or development use than production, and it can be a good testing ground for software. Fedora tends to have support for newer hardware than CentOS.
Get Guidance and Support for Your Enterprise Linux Deployment

OpenLogic experts are here to provide technical support, including CentOS 7 LTS support, and professional services. Talk with an enterprise Linux expert today to discuss your path forward.
Additional Resources
If you're looking for additional reading on enterprise Linux distributions like Fedora, CentOS, or RHEL, be sure to check out these resources.