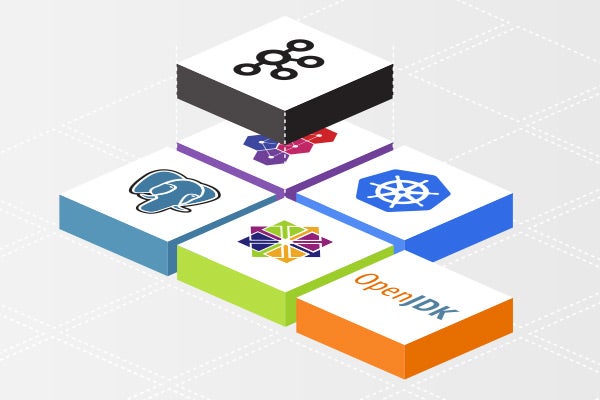 February 4, 2020
Build Your Open Source Stack: OpenLogic Stack Builder
Choosing Your Open Source Technologies
Open source software is booming. More and more businesses are beginning to adopt more OSS technologies and finding faster innovation freedom. According to Gartner, over 95% of IT organizations use some form of open source software in mission-critical IT workloads. And that footprint grows by 30% annually. Are you looking to be a part of the movement? Not sure where to start? 
 
Building your open source stack can be overwhelming. There are thousands of open source solutions to choose from. It can be hard to know what questions to ask in your search. Many organizations find themselves running open source packages that don't interact with each other well. Organizations are left with an overwhelming amount of research to do and, potentially, the lack of resources to make a proper decision. Does this sound familiar? In order to simplify organizing your OSS architecture, we've created the OpenLogic Stack Builder. 
This free tool enables you to easily navigate open source technologies in every level of the OSS stack. With the stack builder, you can confidently choose your open source platform, database, middleware, application runtime, and monitoring tools. Along the way, you'll receive free, expert recommendations — including a personalized report — for choosing open source technologies to support the key layers in your technology stacks. Click here to build your custom stack!
 
How Does the OpenLogic Technology Stack Builder Work?
Here's how it works:
Click on a layer and answer a few multiple-choice questions about your needs.
Based on your answers, we list one or more free open source technologies that could work well for that layer.
You specify the technologies that you want more information about.
After you have made all of your selections, you can download a free customized report that shows you:
Our recommendations for each open source stack layer.
High-level information about why the recommended technologies could work well for you.
Additional guidance for other free and open source technologies that could help you meet requirements, including options to help with automation and CI/CD.
You Built Your Open Source Stack, Now What? 
After using the OpenLogic Stack Builder, you now have a custom report on your recommended open source technologies. Your report may include tips on migration, implementation, and enterprise support options. Wondering how you should proceed? Our team at OpenLogic by Perforce is here to talk through your next steps. We can help with migration services, software training, innovation guidance, and support for your new stack.
  
With more than a decade of experience helping industry-leading organizations adopt free and open source technologies, we provide experts who can help you understand whether an open source migration makes sense for your requirements. You can partner with us for general guidance such as technology considerations and required migration steps — and you can engage us to manage your entire migration. Connect with us today!

TALK TO AN EXPERT