With enterprise systems growing increasingly complex, the need for dependable, accurate, and versatile system monitoring has become more important than ever. Luckily, open source software can provide a cost-effective way to meet those needs – if you have the right expertise and support.
OpenLogic by Perforce makes it easy to leverage the latest advancements in open source monitoring, with experienced Enterprise Architects available to integrate, optimize, and support your monitoring stack.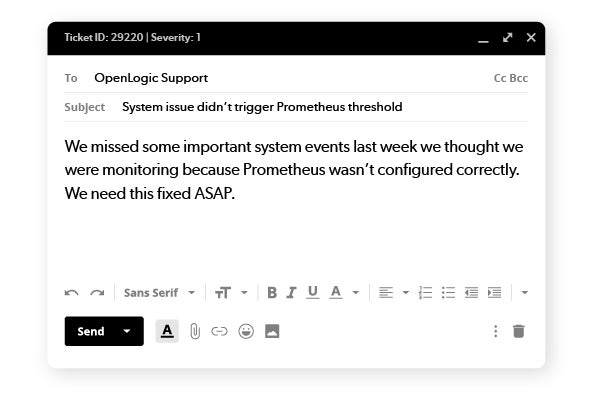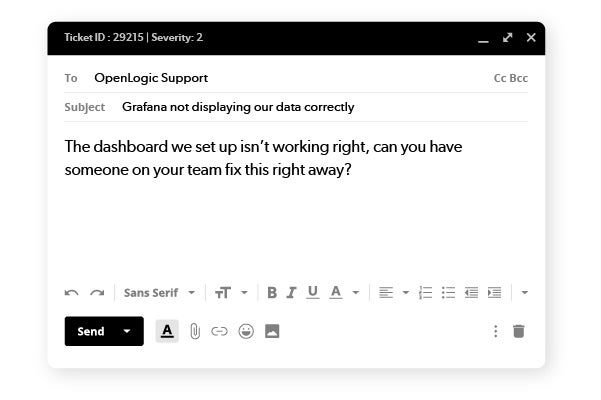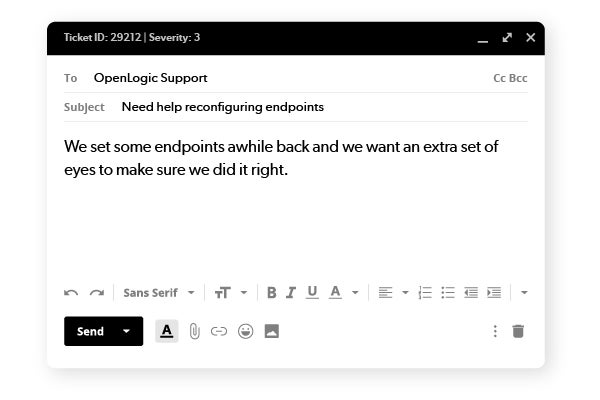 Get Support for Your Monitoring Tools
When you choose OpenLogic, you get access to a team of Enterprise Architects with 15+ years of experience in solving the biggest issues in enterprise systems.
Better yet, that support is 24/7/365, backed by guaranteed SLAs, and delivered directly by our Enterprise Architects.
OpenLogic support goes beyond monitoring tools, too, with support for over 400 of the most-used open source packages today.
Ready to see how our team can help support your business? Fill out the form to talk with an expert today.
Our Open Source Monitoring Tool Services
We complement our open source monitoring tool support with a wide array of professional services. See a small selection of what we offer, below.
Choose the Monitoring Tools That Fit Your Needs
Because OpenLogic is solution-agnostic, we'll always recommend the open source packages that best fit your needs.
Get the Monitoring Tool Support and Services You Need
Ready to see how OpenLogic can support your open source monitoring tool stack?
Talk with an expert today to learn how we can help achieve your goals.
400+ Supported Open Source Packages
OpenLogic supports more open source packages than anyone.
Support and Services for Your Entire Stack
From ActiveMQ to Zabbix, we can support your entire open source stack.