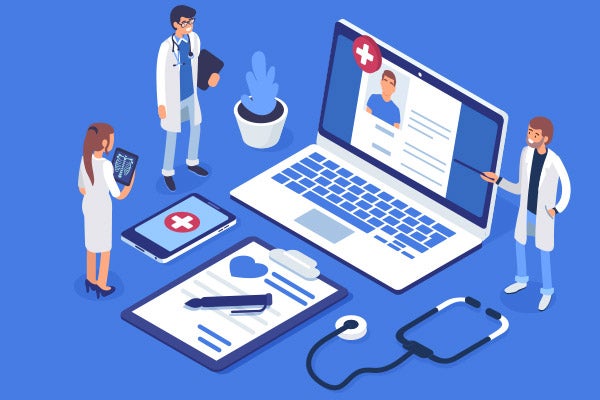 March 22, 2019
Nightscout, Open Source, and the Diabetic Community
In this blog, we cover what Nightscout is and why use it. We also interview an anonymous developer on the Nightscout technology. 
Back to top
What Is Nightscout? 
Nightscout is a free and open source project that enables accessing and working with continuous glucose monitor data.
Back to top
Nightscout and Living with Diabetes
The healthcare industry has always made its leaps and strides through the advancement of technology, the likes of which has reduced the complications of surgery and other procedures used to gather information and solve complications. One such invention, the insulin pump, has made the lives of countless diabetics much more manageable and stress free.
In addition to the insulin pump, a secondary device, the glucose monitor, can be worn to provide additional data about the user. However, while devices are capable of gathering as much information as we would like, the division of smartphone platforms has left Android-using diabetics at a disadvantage to their iOS-wielding comrades.
Even though major corporations refuse to offer their products across all platforms does not mean these products are completely incompatible with other software platforms. Using good ol' American ingenuity and a love of hacking, the open source community has been able to provide Android-using diabetics with a hacked version of the Continuous Glucose Monitoring software for the Dexcom line of glucose monitors.
Back to top
Dashboard Using xDrip+, MongoDB, and Nightscout
Using a combination of proprietary hardware and open source software, my friend, who we will call Developer X, has been working with the project, and to visualize the data being pulled from the Dexcom, he's created a detailed dashboard using xDrip+, MongoDB, and Nightscout.
Back to top
Why Use Nightscout?
In a brief interview, I asked Developer X some questions about his experience with Nightscout and living with diabetes.
Using these open source tools, he was able to create a live chart that is displayed and can be accessed remotely, monitoring and measuring his glucose levels as well as any additional data he might receive from the pump or the G5.
Can you tell us about your experience with diabetic technology and why you were inspired to work on this project?
I was diagnosed with Type-1 diabetes 23 years ago at the age of 10. The technology has developed rapidly to live a healthy and safe life with diabetes. My first insulin pump, which I refer to as a portable pancreas, was given to me at the age of 13. It has allowed me to live a flexible lifestyle where I'm not glued to a daily regimen of eating only at certain times during the day. About five years ago, I received my first CGM (continuous glucose monitor).
It has allowed me to see my blood sugar every five minutes without having to prick my finger six times a day. The peace of mind knowing if my blood sugar is crashing or peaking has been instrumental in my diabetic therapy. Between the two technologies, insulin pump and CGM, I've been inspired to use my background in IT and software engineering to try, test, extend, and support other T1Ds in their efforts to have a better quality of life with diabetes.
Since you've used open source technology in this project of yours, do you intend to make your own project open source? And if not, why?
Enough documentation is available in the community for the layman to run this open source software. My only intent is to extend the project for mine and others' gain. Our lives depend on it, after all.
Going forward, what sort of other features and improvements do you want/plan to have implemented?
There is an effort for APS (Artificial Pancreas System). It allows your insulin pump and CGM to work in tandem to automatically manage your diabetic therapy without intervention. I have not tried it yet due to security concerns that a malicious attacker might be able to root my system, so I may look into locking down hacked proprietary hardware for peace of mind.
Have you reached out to any hardware manufacturers to discuss working on this together or potentially selling the features?
I have not reached out to any hardware manufacturers, but I do see a change in companies' proprietary technologies to allow easier parsing of data amongst systems. One example is Dexcom having opened up their API to grab your blood sugar and do what you wish with the data.
Have you spoken at any medical or tech conferences about this project? Do you have anything scheduled for the near future?
If I had the time, it would be great, but I'm a consumer of this work and only plan to assist in an open source manner with time permitting.
Back to top
Looking to Get Support? 
Connect with one of our expert architects from OpenLogic by Perforce. 
Back to top