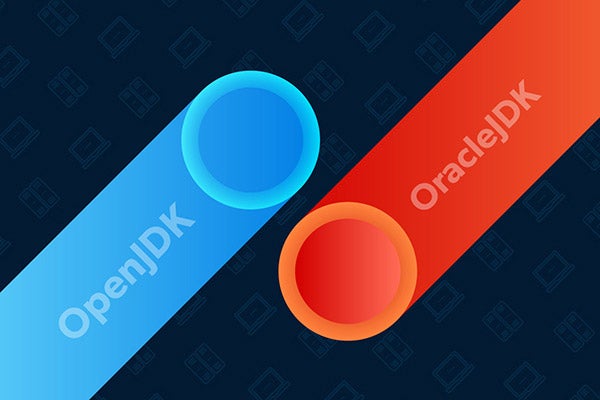 October 29, 2019
My Oracle Java License Got Expensive: What Are My Options?
Back to top
Oracle Java License: What's Changing?
Changing the Java release cadence to a six-month interval has challenged IT teams to adjust their upgrade practices to comply with a much shorter window. Oracle's new commercial licensing requirement for using the widely distributed OracleJDK, or Java SE runtime, adds financial risk. It has begun forcing the Java development community, and those relying on Java for running their production applications, to rethink their long-term Java usage strategy.
Back to top
Coming Shift for Production Deployment Projects
It is not common to see massive shifts in stable enterprise runtime environments such as Java, but this case is different. In 2018, 70% of production deployments were based on Oracle's JDK while OpenJDK production footprint was only around 20%. Gartner expects that by 2022, at least 80% of JDK production deployments will come from an OpenJDK distribution.
According to a recent Gartner study, the increasing adoption of OpenJDK is primarily driven by cost as over 50% of Oracle JDK customers will face license compliance violations over the next 3 years. The shorter, six-month, Java-version release schedule further complicates the situation. Many organizations are unable to keep their ­embedded and regulated mission-critical applications updated with the latest Java runtimes releases, without causing disruptions to the business.
Enterprise Java users that need enterprise-level Java support and security are left with essentially two options:
Purchase a commercial license and support SLA for OracleJDK to minimize IT environment disruptions.

Take advantage of OpenJDK

and support options — from internal staff or a third-party — to remove their Oracle licensing dependency and save millions on Java runtime support fees.
[Forrester Report] Weigh Your JDK Options

What's your best option for Java support? Find out what the Forrester experts have to say. 
Back to top
Finding Alternative Options to an Oracle Java License
The alternative to the OracleJDK is one of the many distributions of the OpenJDK project. The open source JDK has feature parity with the Oracle code base. Commercial OpenJDK support is available from many vendors, though not all provide the same type of coverage. Most OpenJDK support options align with the SLA of a vendor's commercial platform, such as an operating system, cloud service, or enterprise middleware component. Adopting such a solution releases an organization from the grip of Oracle licensing but can send it straight into the grip of another software vendor. This is where the OpenLogic by Perforce approach differs.
Back to top
Get OpenJDK Support
Java is spread throughout the development and IT environment. The OpenLogic team provides commercial SLAs and consultative architecture advice for hundreds of key open source software packages, including the majority of OSS technologies deployed in enterprises. This means the OpenLogic team offers vendor-neutral support.
With OpenLogic, you can build your application stacks from best-breed technologies and distributions, while receiving support for your full solution from one vendor instead of many. And, you have the freedom to change your software and cloud vendors at will to best meet your business requirements.
Find out how OpenLogic experts can support you in an OpenJDK migration. Talk to one of our experts to get started.
Related Content
Back to top