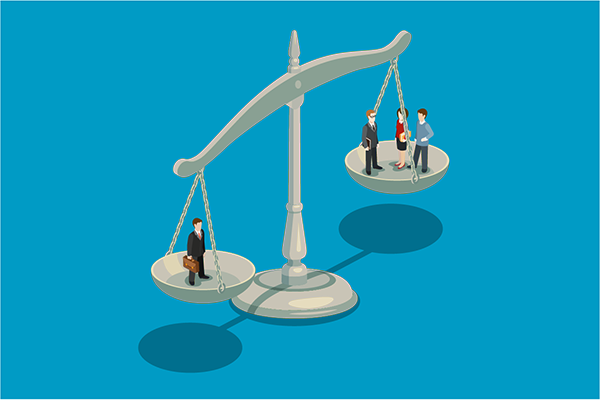 December 16, 2021
Open Source Support Vendor Consolidation Is Possible
One of the great benefits of using open source software is the flexibility that it offers to developers and organizations to use various open source technologies, complementary components, many options to integrate with other software, and above all, independence from vendors. It offers freedom from being locked into a specific proprietary vendor's technology, support, and contract. 
That said, the typical enterprise organization is using many pieces of open source software within their stack, each with varying support needs. For some organizations, that means managing different support vendors for each piece of open source software and, ultimately, managing the costs and complexities of working with those vendors.
In this blog, we look at the modern realities of using open source in the enterprise, why open source vendor consolidation is important, and possible approaches for consolidating your open source support vendors.
Back to top
Open Source as a Business
As 2021 is winding down, the open source industry continues to evolve, and many companies have grown successful at commercializing with business models based on popular open source software. There are many examples of successful businesses; however, we can classify them into two major categories.
These major categories or approaches to commercializing open source software can be combined and augmented with professional services and, of course, technical support.  Models that have proven to be successful with companies such as Databricks, MongoDB, Hashicorp, Cloudera, CloudBees, and Elastic have reached millions of dollars in revenue.   
Software as a Service
The software-as-a-service (SaaS) business model involves open source software that is hosted, maintained, and easily available for consumption.  Users of open source software under this model do not have to worry about installations, deployments, and infrastructure issues.
Open-Core Software
The second category refers to what is called open-core software; vendors offer additional complementary features to open source software, a paid functionality that enhances the core open source software. Customers get open-core software and pay for additional features and technical support. 
Back to top
Commercial Open Source Vendor Lock-In
These market dynamics at the end of 2021 bring us back to the issue of organizations locking again into vendors. There is a developing trend similar to (but not quite the same as) the lock-in experienced by propietary software users: Organizations are using more open source software and, consequently, expanding the number of commercial open source vendors.
As we have seen with all types of technology over the years, there are periods of expansion and there are periods of consolidation. It seems that for many organizations that were locked in with commercial software vendors are now locked in with more commercial offerings of open source software. We are far from being in a consolidation phase. In fact, open source software is well into an expansion phase and stronger than ever. Every day there are more open source projects — just look at the CNCF cloud-native and the AI & Data Foundation landscapes for a small sample.
This creates an expanding variety of commercial open source software, SaaS, open-core, or a combination for the latest technologies, including the cloud-native ecosystem, DevOps tooling, and increasingly, artificial intelligence and machine learning software. 
Back to top
Open Source Vendor Consolidation
Today, organizations are contracting with even more vendors. CIOs, CISOs, and IT executives need to again pursue vendor consolidation initiatives — something that benefited the largest software companies 10 or 20 years ago (e.g., consolidation into all Microsoft, or Oracle, or IBM software products).  
Vendor consolidation, then, is again a desired state for many organizations as an opportunity to mitigate the overhead created by working with a large number of vendors and instead focus on a reduced number of thoroughly vetted vendors. But how can companies consolidate vendors in a dynamic and expanding open source environment? How can organizations get the best technical support for the open source software inside those mission-critical applications running almost every business today?
One trending approach to consolidate open source vendors is to focus on the technical support aspect of open source software. A key reason to go with commercial versions of open source software is the ability to subscribe to technical support — to have someone to contact when something goes wrong or is not working properly. Some IT organizations have their internal compliance policies requiring external professional technical support for all software. This year, software security is at its highest in terms IT organizations' priorities and having a third-party provider for technical support brings peace of mind, mitigates risks, and even conforms with compliance.
Back to top
Vendor-Neutral Open Source Technical Support
Independent, vendor-neutral technical support for open source software is a viable alternative to lock-in commercial open source software offerings. If technical support is more important than added features, it's even possible to skip commercial open source offerings altogether and use only versions from the open source community.
As an example, today's container and container orchestration technologies (mainly Kubernetes) are being deployed in production environments all over the world with or without commercial support. If organizations need technical support, they don't have to lock in with multiple vendors, they can consolidate the support with a single vendor.
Vendor-neutral technical support requires technical expertise, not just for troubleshooting issues, but also to provide expert advice on architecture, configuration, and scalability of production environments. Assistance on how to use open source software at scale and how to integrate different technology stacks becomes very important. Organizations can be ready to consolidate vendors while avoiding lock-in if they can contract professional enterprise-level support with options such as phone or email contact, guaranteed response time, service-level agreements (SLAs) within business hours, or 24x7 support options. 
Consolidating vendors for technical support needs also brings another great benefit, the ability to troubleshoot and investigate issues across multiple open source technologies. A business can troubleshoot across the software stack without the complexity of talking to multiple vendors that will only support their corresponding piece of functionality and point fingers at each other which only exacerbates problem resolution. It costs time and is unnecessarily complex to get support from multiple vendors. 
Open source software support is going to look different in the future. Experts on the different technologies have the upper hand in terms of support, but combining expertise with the availability to provide enterprise-level technical support across technology stacks and avoid vendor lock-in while consolidating vendors, that combination, will be the winning formula in 2022 and beyond. 
Ready to Consolidate Your Open Source Support?

OpenLogic by Perforce offers expert, around the clock support for over 450 open source packages and counting. Click the links below to learn more about what we support and why we're trusted by top companies around the world.
Back to top