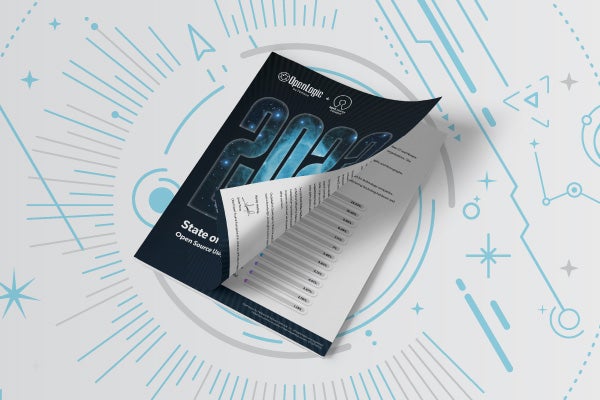 February 9, 2023
Top 5 Takeaways from the 2023 State of Open Source Report
Every year, the State of Open Source Report offers an in-depth look into how OSS usage in organizations is evolving around the world and across different industries. This year, we collaborated once again with the Open Source Initiative (OSI) to develop the survey and analyze the results. There are always a few surprises in the data, as well as some trends that align with what I see working with customers in my role as Chief OSS Evangelist and Sr. Director of Product Management at OpenLogic.
This blog is the first in a series that will examine the most essential findings from the 2023 State of Open Source Report. If you haven't already done so, I recommend downloading the full report to get a more complete picture. That way, you can access the data and insights that are most relevant to your organization and/or interests.
Without further ado, let's dive in!
Back to top
Who Took This Year's State of Open Source Survey?
Here's a breakdown of the nearly 900 valid responses we received by industry, organization size, and region. This year's survey was conducted between September 27 and November 15, 2022. 
Industry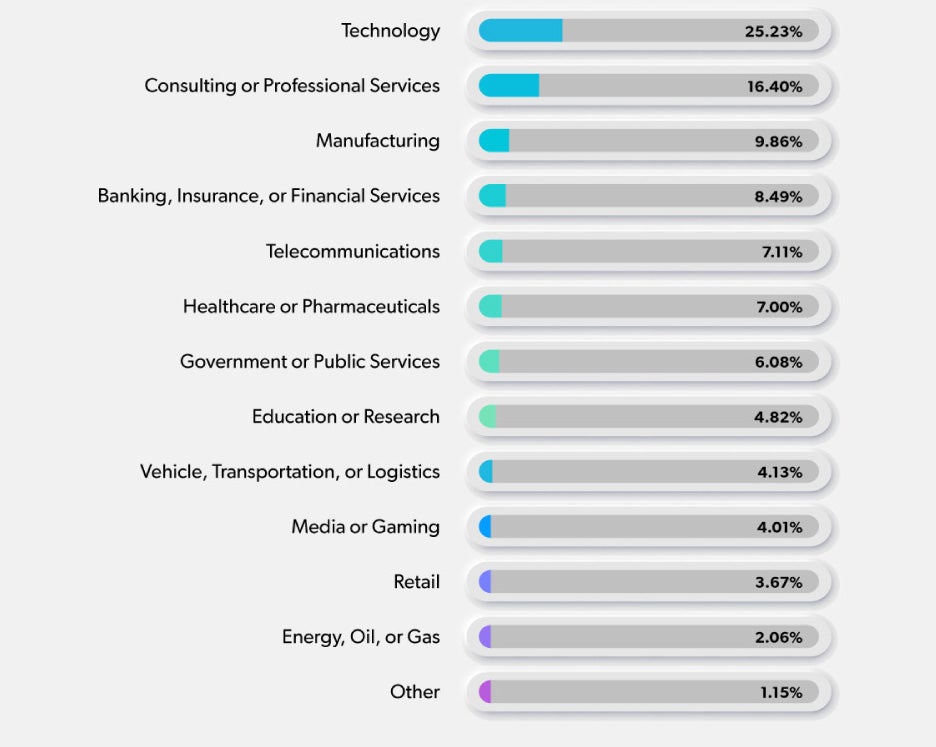 Size


Region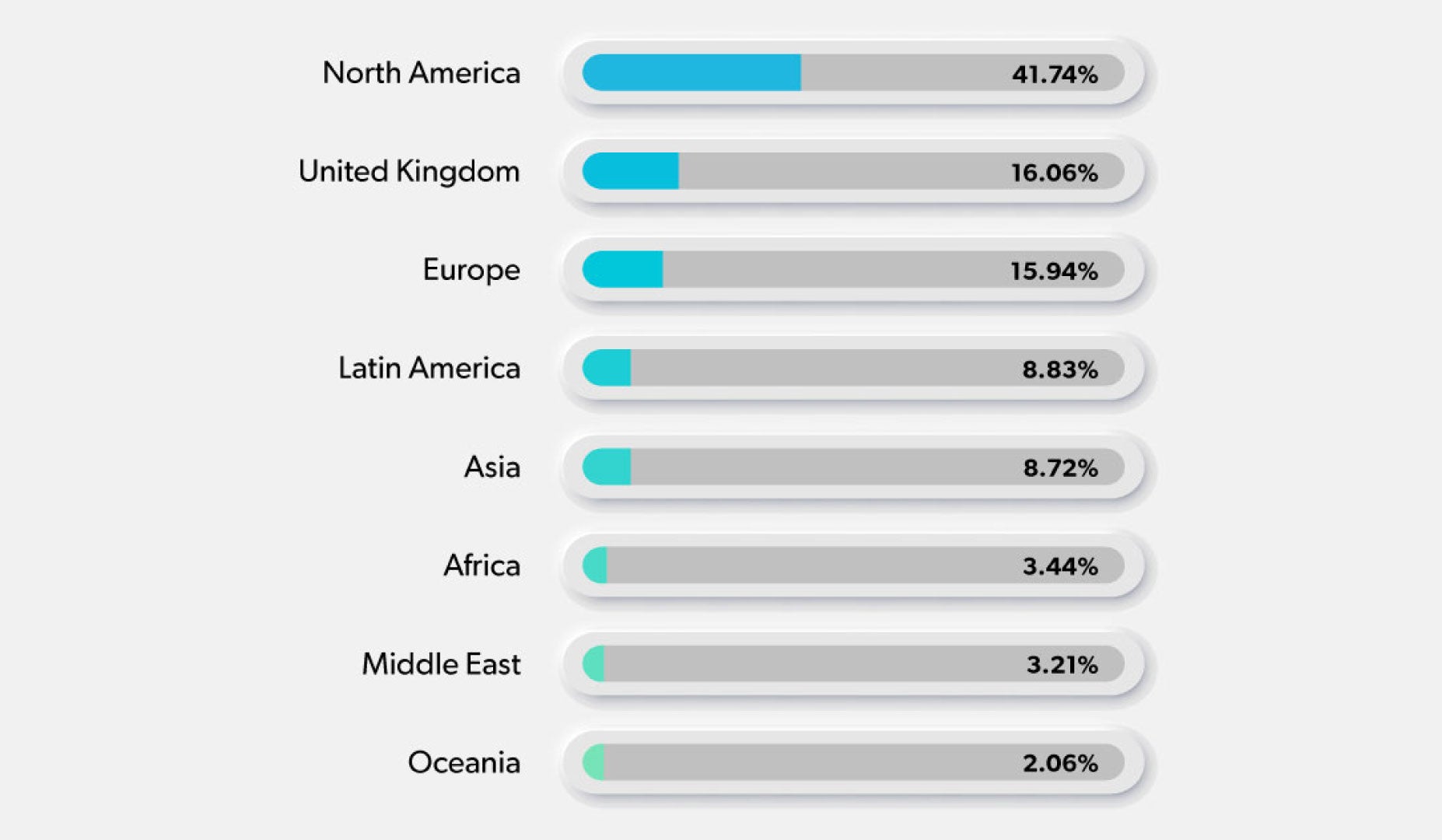 Back to top
Top 5 Takeaways from the Report
With more than 60 pages of charts, graphs, and analysis, there is a lot to sort through in the State of Open Source Report. Here's what I believe to be the top 5 most important findings:
Back to top
1. OSS Usage Has Increased, Driven by Desire to Access Innovations and New Technologies
One of the first questions we asked is whether or not OSS usage increased in the last 12 months. An astonishing 80%, or 4 out of 5, respondents answered "yes" — and more than half of that group (41.28%) said "Yes, significantly." 
Here are graphs showing OSS usage from last year compared to this year: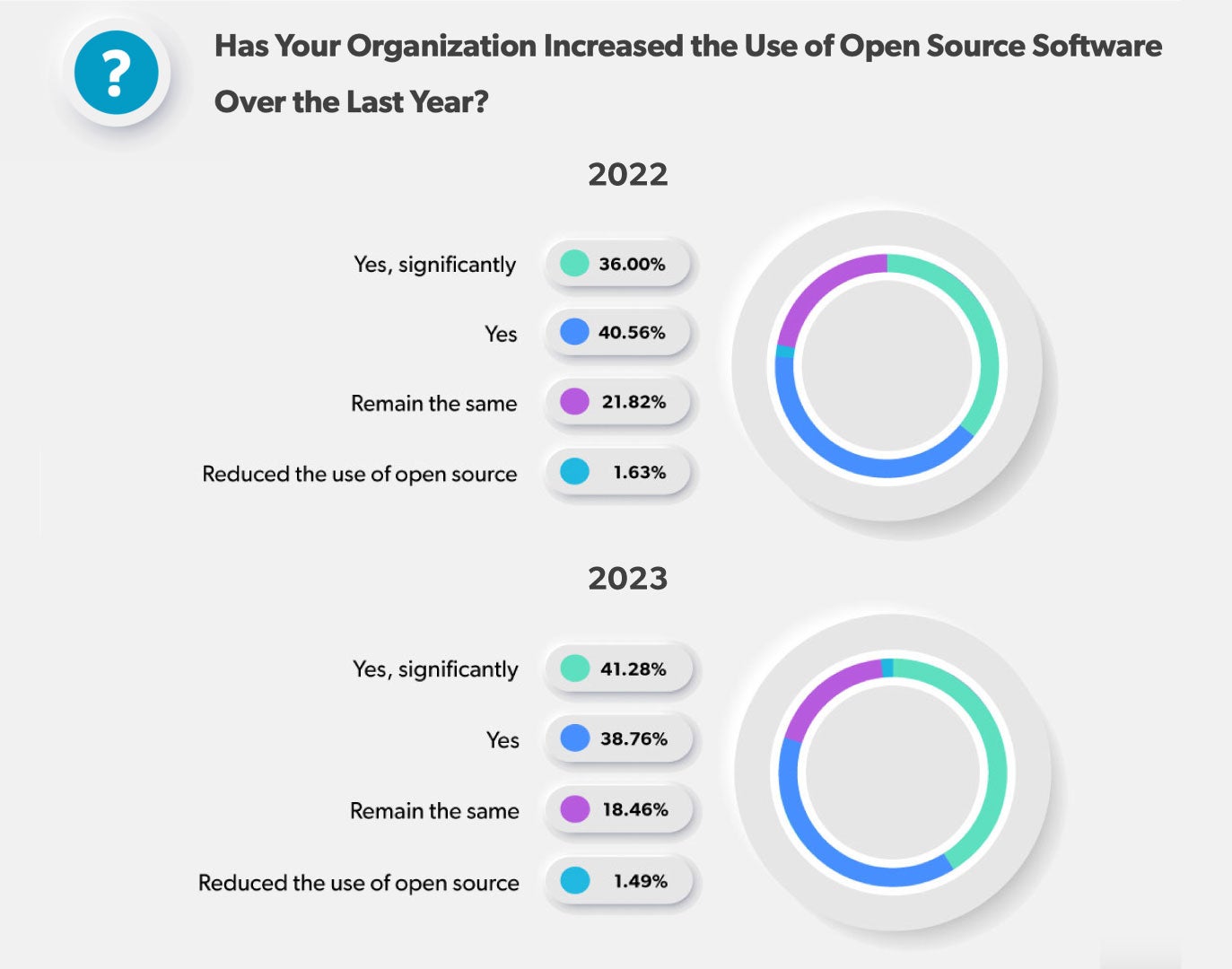 To better understand what's motivating this growth, we also asked respondents about why they choose OSS. "Access to innovations and the latest technologies" was the most popular response, followed closely by "Functionality available to improve development velocity." Out of 12 possible answers, "No license cost, overall cost reduction" came in 9th place. 
Here's a closer look at the top 5 responses: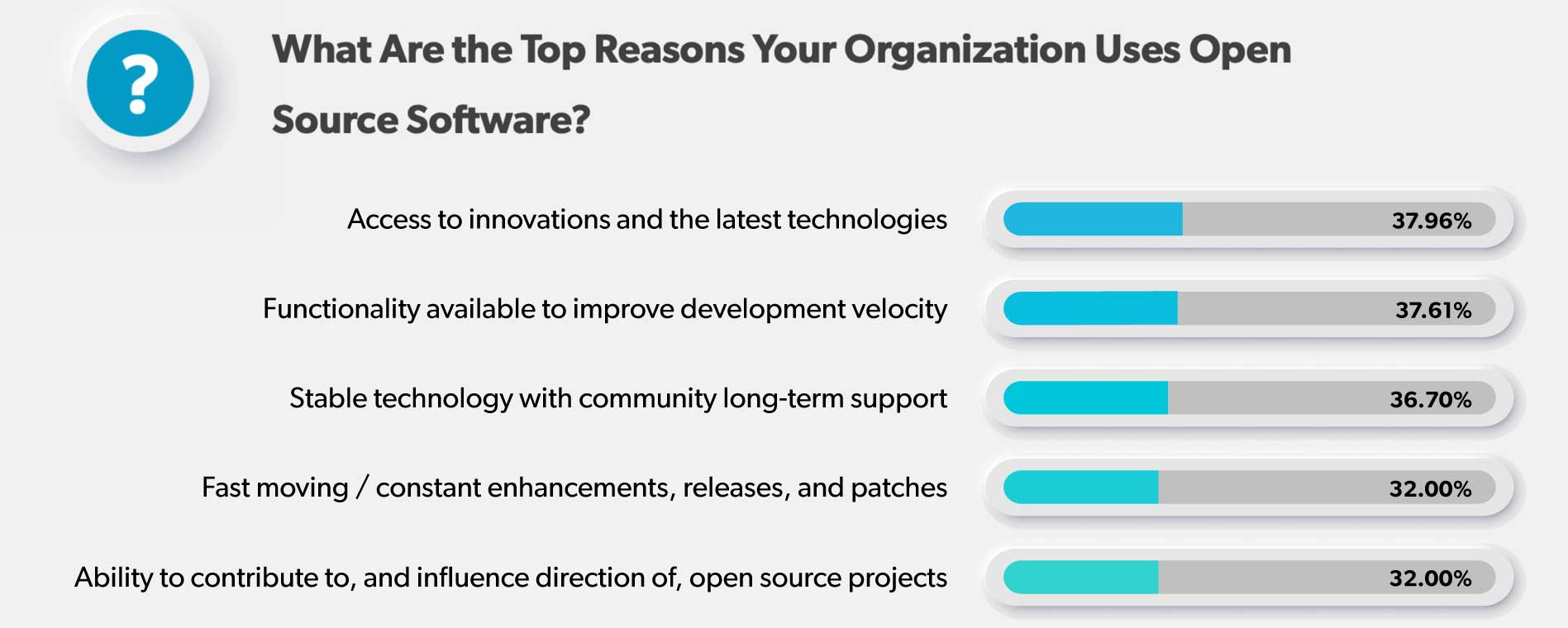 Why does this matter? Well, for one, it means OSS is becoming more widespread on its own merits, because organizations increasingly recognize its potential to accelerate innovation and development, not for budgetary reasons.
There are some interesting nuances when looking at responses to this question by geographical region, so I encourage you to check out page 15 in the report to see that data.
Back to top
2. The Biggest Open Source Challenges Are Security Issues, Lack of Skilled Personnel, and Tech Support 
When we look at the top responses to a question about challenges with using open source, a few themes emerge. They all relate in some way to security, skill gaps, or both. These are the areas in which organizations need the most technical support with their OSS to meet internal or external compliance standards and keep their business-critical applications running smoothly.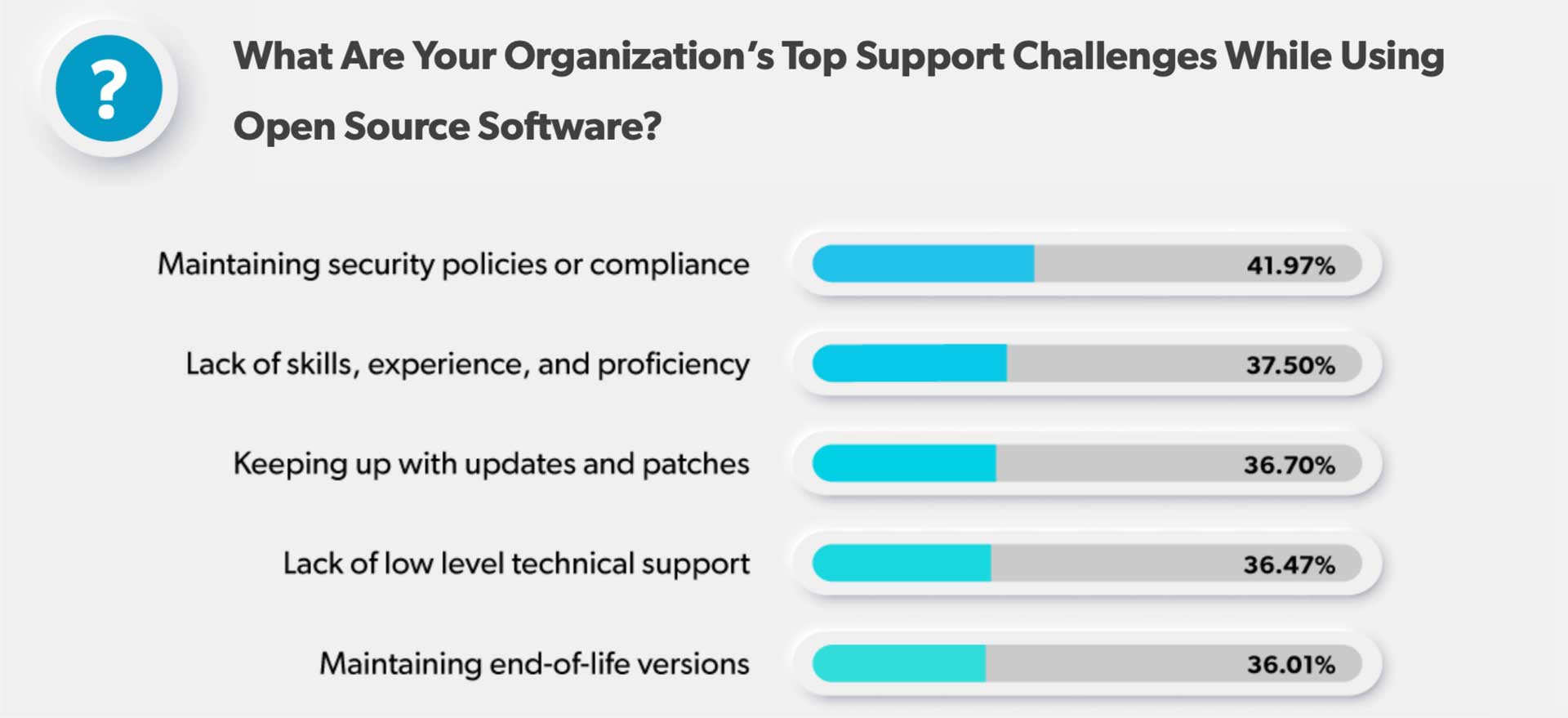 Back to top
3. Containers and SDLC Tools Are in High Demand
It's always exciting to see what technologies are surging in adoption, and this year, the clear winners are containers and SDLC tooling. These two categories are both the most used and received the most investment last year from organizations in terms of budget and allocated resources. As cloud-native deployments have become more popular, it's no surprise that containers and container orchestration technologies saw a big bump in usage (18% in 2022 vs. 33% in 2023), and less than 5% of respondents said they are "not using any" SDLC tools — which is down from 7% in 2022.
Back to top
4. Unsupported EOL Software Stays in Organizations For a Long Time
Maintaining end-of-life versions was the 5th most chosen support challenge overall, and we saw that reenforced later when we asked respondents about frameworks and infrastructure tools. The 2022 State of Open Source Report came out last February, just a few months after AngularJS reached EOL, so we expected to see a number of orgs still using it. But a full year later, the percentage is almost exactly the same —15% — for all respondents, and slightly more than 20% for those at large organizations with more than 5,000 employees.
AngularJS Usage 


CentOS is another interesting case; while usage overall has declined since last year, certain industries have been slow to migrate even though both CentOS 6 and 8 are already EOL, and CentOS 7 support ends in 2024.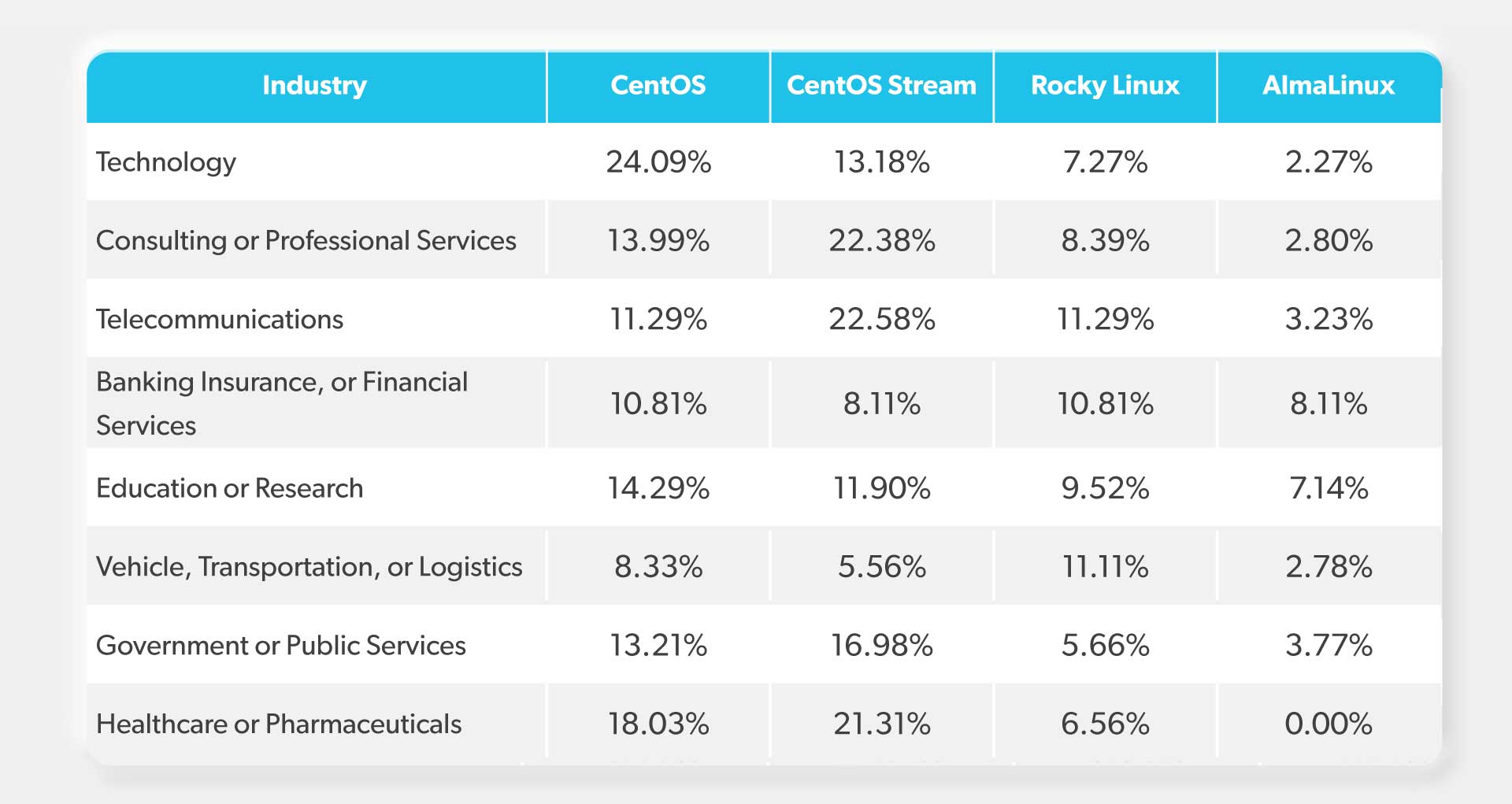 Back to top
5. Enterprises Are Becoming More Active Contributors to Open Source Projects 
The 2023 State of Open Source Report concludes with sections on open source maturity and stewardship, and here the news is very encouraging. The report indicates that more and more organizations are advancing from being merely open source consumers to contributors and even leaders in the space. 
The graph below shows the activities/behaviors indicating open source maturity selected by 25% or more survey respondents.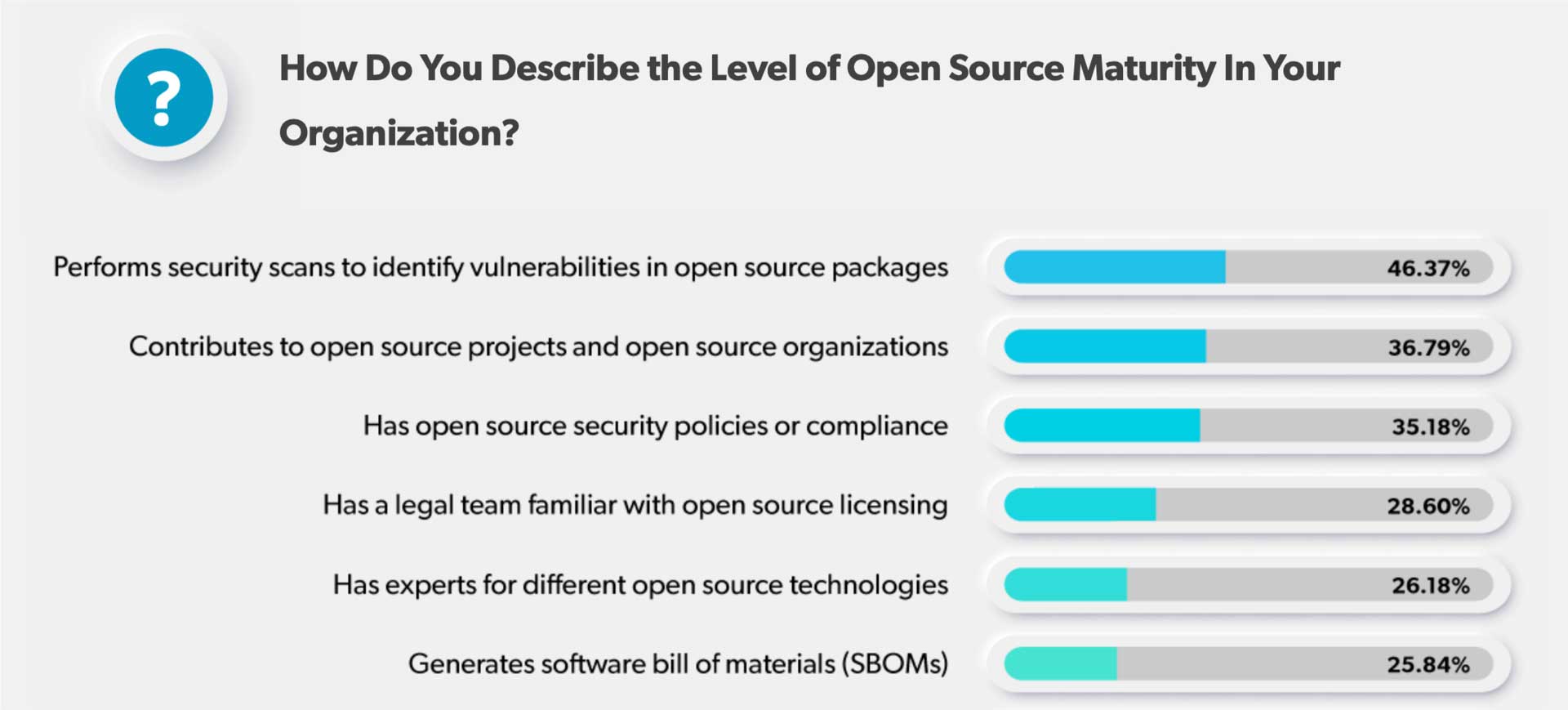 From running security scans on OSS and open source packages and generating a Software Bill of Materials (SBOMs), to contributing to open source projects and non-profits, we see positive growth compared to last year in nearly all of these maturity markers. 
Of course, we'd like to see these numbers hit 100%, but they are moving in the right direction. 
These are just a few select highlights from this year's report. If you'd like to see more of the data, I encourage you to download your free copy— or watch the on-demand webinar below to hear me and Stefano Maffulli from the Open Source Initiative discuss the report!
Additional Resources
Back to top