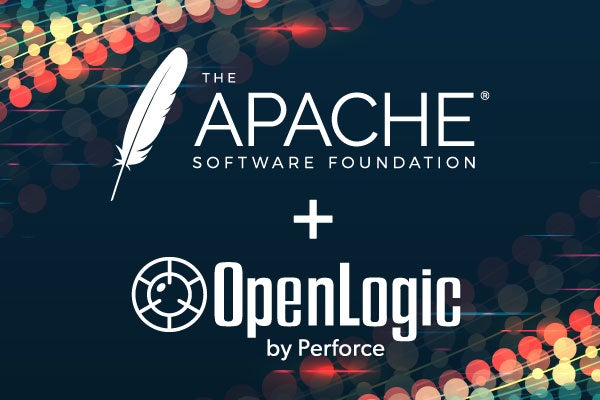 June 30, 2022
OpenLogic by Perforce Announces Sponsorship of the Apache Software Foundation
As part of an ongoing effort to support and collaborate with more open source communities, OpenLogic by Perforce is proud to announce our sponsorship of the Apache Software Foundation (ASF).
Keep reading to learn more about the significance of the ASF, why we as an organization choose to support open source software projects, and how interested parties can contribute to open source projects like the ASF.
What Is the Apache Software Foundation?
The ASF provides support for the all-volunteer Apache community of more than 370 open source software projects. Apache projects use a collaborative development process, and an open and pragmatic software license.
Many popular Apache projects have directly contributed to the evolution of the digital world. Apache projects power most of the internet and computing devices. Exabytes of data are managed by different Apache projects, and every industry with software is using open source Apache projects in some form or another. On top of all that, the commercially-friendly and permissive Apache License is an open source standard that has helped build and grow the global software development industry.
From popular offerings like Apache HTTP Server, ActiveMQ, Camel, and Tomcat, to the variety of heavily used data technologies like Apache Kafka, Spark, Hadoop, and Cassandra, there are many important Apache open source projects. 
The ASF plays a critical role in driving the growth and stability of these projects. It supports communities of open source projects by providing organizational and financial assistance in areas such as computing infrastructure, code repositories, mailing lists, and bug tracking systems. The overall Apache community and the individual volunteer-only communities of projects have the helping hand of the ASF, with the support, education, mentoring and legal assistance to develop more open source software.
Why Do We Support Open Source Software?
Contributions to open source software are typically associated with code, with software developers providing code fixes, and/or enhancements. Code contributions known as upstream contributions have become the lifeblood of open source software. 
But contributing to open source software goes beyond code. There are tasks like documentation, graphic design, organization of events, and promotion that require contributions. These are just some of the important areas that round up the needed grounds for open source projects. With the combination of good open source software governance and being part of an open source foundation, projects have the bases and support to continue their growth, adoption, and commitment for long-term existence.
Promoting adoption, providing education related to the projects, and acquiring expertise are not easy tasks. Communities and foundations need financial resources, volunteers, and all the help they can get to continue their work. Today, organizations, especially companies, have become the main supporters of open source software. Why? Because open source is in all software — whether it's open source or proprietary.
At OpenLogic by Perforce, with 20+ years of experience working with diverse open source projects and helping our customers navigate open source technologies, we strongly believe in the power of community collaboration and contributions to open source software. Aside from code contributions, one example of our contributions has become evangelizing open source topics and technologies, giving talks, and sponsoring projects. We do this to give back to open source and to continue to evolve the use and adoption of open source technologies.
Today, our customers do not ask about the benefits of open source software; instead, they ask how to work with and expand their use of open source technologies, or how to combine and integrate open source software stacks. 
The open source space continues to evolve. And, while we see great individual participation, we also see the continued growth of companies' participation. We are proud to be one of those organizations that have believed and contributed in different ways to open source software. 
OpenLogic and the Apache Software Foundation
We believe open source foundations are key to successful open source projects and the advancement of technologies. I'm pleased to announce that OpenLogic by Perforce is joining the ASF as a bronze sponsor. Along with the ASF, OpenLogic by Perforce shares the advocacy of open source software.
While we have been supporting, assisting, and educating our customers in a variety of Apache projects for a long time, now is the time to contribute directly to the ASF, collaborate with the foundation, and to extend our relationships with the different Apache communities. OpenLogic by Perforce is committed to continuing our support for open source software and the Apache projects.
How to Contribute to the Apache Software Foundation

If you or your company is interested in contributing to the ASF, please visit https://www.apache.org/foundation/contributing.html today.