Open source software underpins the IT infrastructure that powers the digital economy – and the pace at which organizations are expanding their use of OSS is only continuing to grow.
So how can teams keep track of a rapidly expanding set of open source technologies, and ensure their companies are fully realizing the benefits of open source software in 2022 and beyond?
About the Report
In our 2022 Open Source Support Report, a collaboration between OpenLogic by Perforce and the Open Source Initiative (OSI), we present data from over 2600 open source users spanning all industries, organization sizes, and regions.
Each page is packed with the latest data on the top open source technologies and trends – all accompanied by expert insights and analysis.
Ready to discover the state of open source in 2022? Download for free today via the form on this page.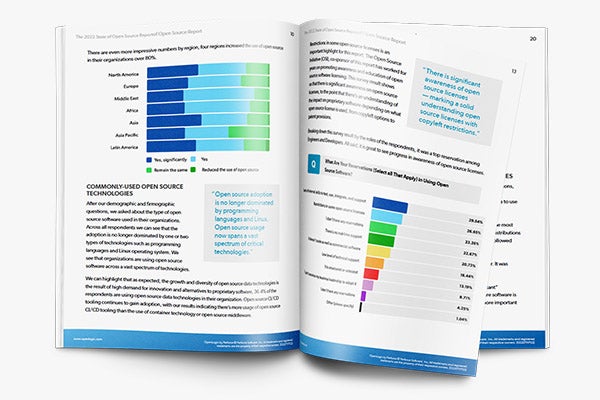 Get Insight Into the Open Source Technologies Shaping the World
From frameworks to AI/ML/DL technologies, open source is powering the innovation at leading companies around the world.
Download the 2022 State of Open Source Report for insights on the top open source:
Framework technologies
Infrastructure technologies
Programming languages
Data technologies
CI/CD technologies
AI/ML/DL technologies
And more
See How Different Industries Are Using Open Source Software
New in this year's report, we dive in on how specific verticals and company sizes are using open source software, including analysis on these industries:
Technology
Consulting
Telecommunications
Finance
Healthcare
Manufacturing
And more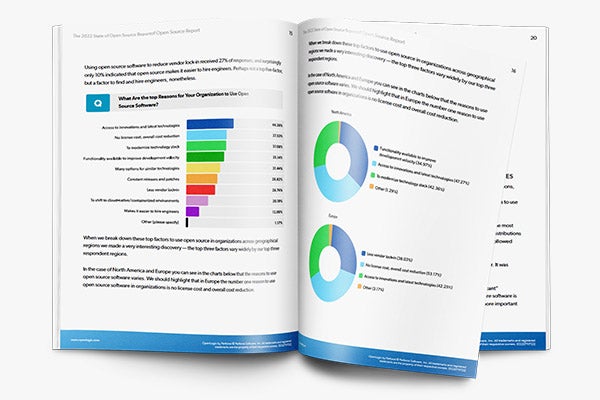 Frequently Asked Questions
Does This Report Have Data on Open Source Database Software?
Yes! The report looks at opensource database trends and technologies, including open source DBMS, open source middleware / OSS middleware, and more. The report also looks at database enterprise stacks, and how they differ from smaller organizations. While we don't dive into a debate around which is the best open source database, we do provide data on the top selections and why organizations are adopting open source data technologies.
Are There Any Surprising Open Source Trends In This Report?
Our analysis uncovered a number of surprising open source software trends in the 2022 report. One of the big trends that we noticed was around the increased adoption of open source artificial intelligence, open source machine learning / OSS machine learning, and open source deep learning technologies. 
Download the Full Report for Free
Ready to check out our 2022 State of Open Source Report? Fill out the form to gain instant access.